sailingfastforward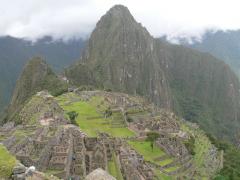 13th Mar 2007 - 18th Mar 2007




MACHU PICCHU... quite surreal



We rounded the corner and were humbled by the expanse of ruins that surrounded us. Magical; mystical; spiritual – call it what you want. It's simply INCREDIBLE.

02 12 95S; 080 55 40W
Let's backtrack…. We left the Galapagos on 1 March and ended up motoring for 4 ½ days to Puerto Lucia, Ecuador (!! The longest we've ever had to motor!!). We were to fly out to the UK on 20 March via Panama and Miami for the wedding… Peru is not too far away by airplane - and we had a week to kill, so we decided to fulfil another dream by dashing off for a hike around Machu Picchu. Spent hours on the internet sourcing flights and accommodation and gathering tourist information. In all honesty it was a bit of a rushed trip and another day would've made all the difference… but, we've now been there and got the proverbial T/shirt! With our winter woollies and hiking boots all packed, we boarded a bus in town and settled down for the 2 hour ride to Guayaquil (to help pass the time, a lame American Jackie Chan movie dubbed into Japanese and subtitled in Spanish was thrown in!!). At Guayaquil we would then fly to Lima, overnight there, and fly on to Cusco the following morning. The airline we used (LAN) was impressive, sporting a new aircraft and impeccable service. We'd heard the trip by bus would take about 20 hours (due to the hectic mountain passes)… save the scenic route for next time thanks! Within an hour after take-off we spotted Cusco as well as a number of snow-capped mountains en route. The runway could do with some patching up, but with all the planes flying in they probably battle to find the time! We disembarked with a spring in our step, didn't really notice the change in altitude… but it quickly caught up with us (more on this later!!).

Luckily we were met at the airport and then whisked off for a 20 minute ride to our "hotel" Sumac Wasi, located just off the main square (Plaza De Armas) and the infamous "Gringo Alley" (more on this later!!). The hotel manager was very friendly and accommodating and eager to get us going on some of the tours… it eventually became a case of "information overload" – I didn't want us to get ripped off but I also wanted us to see as much as possible. We opted out of his 5 hour tour that afternoon and decided (on the recommendation of a friend) to just get a taxi and do part of the tour ourselves. We did however ask him to arrange our train tickets for the following morning. The hotel is a beautiful old building… incredibly thick stone walls – making it rather cold! Our room was basic but nice. All we needed was a bed and a shower really, not the Ritz.

So off we went in search of a taxi – still with spring in step… I was starting to get a very mild headache. There was no shortage of taxi's and in broken Spanish and hand signals we'd negotiated a fair rate for him to drive us round to the various ruins. First on the cards was Sacsayhuaman (when said it sounds very much like "sexy woman"!) which is located 2km north east of Cusco, all the time we're climbing higher and higher in the car… did I mention that Cusco's elevation is 3360m… we hired a guide for $5 who was most informative and gave us some coca leaf to chew on (a natural stimulant said to aid digestion and more importantly, alleviate altitude sickness)… he was as agile as a mountain goat and we trailed behind huffing and puffing like 2 old aged pensioners! In short, Sacsaywaman is the most famous Fort of the 33 archeological sites in the area. It could've been a religious structure, but for it's location and style, the Spanish and historians believe it was a military construction. It's the ultimate display of Inca power and engineering prowess. Its largest blocks weigh hundreds of tons, yet they fit perfectly together… and with no mortar! The summit provides a great view of Cusco that has a population of about 325 000 and is so densely built up that one sometimes battles to spot the roads!! After a quick photoshoot with some locals dressed up in traditional gear with Llama's and Alpaca's (baby Llama's) in tow, we were off to the next Inca ruin. The spring had soon disappeared from our step… it was difficult moving about and breathing didn't come as naturally as it should… I had a pounding headache and Ken wasn't looking his usual perky self. After the third ruin we requested to be taken back to our hotel… we desperately needed a serious powernap. We really should've taken it easy after arriving, but we were just so eager and had such limited time!!

Had a really nice meal out that eveningÂ… were treated to a Peruvian band and dancers. DidnÂ't have a late one as we had to be up at 5:30amÂ… not to do the Inca Trail to Machu Picchu, but to catch the train to the town of Aguas Calientes which is the only close-by option, as the famous Inca ruins are only a 15 minute bus ride away.

The 123km train journey was certainly one of highlights of our trip to the Andes. We opted for the more expensive Vistadome train, so called because they have panoramic windows offering amazing views of the towering mountain tops. The 3 ½ hour trip takes you through ever changing landscapes. First, there is the very steep climb out of Cusco into the surrounding hillside, by means of a series of switchbacks, locally known as "the zigzag". Ingenious. The train then descends into the Sacred Valley, passing by lush green fields and colourful villages in the foothills of the very impressive Andes. The train then descends further to the plateau of Anta, where a patchwork landscape of typical Andean crops are impossibly located on the mountain slopes and dotted with goats who have telescopic legs (you'd need telescopic legs to stand at that angle!!).

We raced passed the remains of some of the agricultural terraces used by the Inca's, and sadly this is all that remains after the Spanish conquest in the 1500's. All the while we were running parallel with the wild Urubamba River, the train then passed through more extensive areas of terracing doted with the ruins of Inca fortresses. Soon we were passing Coriwaynachina in the Urubamba Gorge – this is the start of the 88km Inca Trail. Not for sissies. Finally, just 2kms from Machu Picchu the train arrives at Aguas Calientes (meaning hot water, aptly named because of the thermal springs). The towns' economy is based around tourism, you notice it the minute you step off the train – everyone has a pizzeria and there are dozens of souvenir shops selling the very colourful local crafts. We're a captive market and everything costs more here than it does in Cusco.

We asked for directions to our hotel which was located on the train tracks (sounds bad I know), but there are really only 2 main roads in this tiny town and the train occupies the third. It too is lined with restaurants (offering mostly pizza). The hotel, Hanaqapacha Inn, turned out to be rather nice, our room was located on the third floor overlooking the raging Urubamba river, to the left and right were many unfinished hotels/houses/restaurants to be. We dumped our bag and repacked the backpackÂ… eager to get to Machu Picchu. Our intentions were to spend the afternoon there with a guide and then to get up early the next morning and climb to the top of Wayna Picchu. Our pounding headaches were now a distant memory, thanks to the descent to 2038m.

We headed back along the train track into town to get our bus and entrance tickets. The town was nothing to shout about, many unfinished buildings which made it look so tatty - although there was no litter on the streets and around the square!! There were people everywhere, many locals hovered around selling expensive bottles of water and whatever else they could carry. Many selling choclo (like a mealie/corn on the cob, except that the kernels are huge and cream in colour). The busses leave when they are full (and that does not take long!), we were quite chuffed to be on the bus by 12:30. It zigzaged up the side of the mountain offering amazing views of the surrounding mountains and the now teeny tiny Aguas Calientes! If you're feeling rather "flush" you could fork out $720 (US dollars!) for a night at the Sanctuary Lodge… the only hotel situated right next to the ruins… perhaps the only advantage being you can be the first one there to see the sunrise (weather permitting of course as we discovered)!!

We were now at about 2400m above sea level. The entirety of Machu Picchu (meaning Old Mountain) is only visible after about a five minute stair climbing session… and then suddenly, there it is. WOW. It literally leaves you gobsmacked – just staring in awe. It's magical. This place lay hidden from the world in dense jungle covered mountains until 1911 when Hiram Bingham (fuelled by a fascination of Inca archaeology) and his team came across two locals whilst on an expedition, anyway, they had a chat with the guys - who then simply led them to the ancient site! No other complete Inca settlement this size and this well preserved, exists. This is an elite ceremonial site, complete with religious architecture, anchored at a confluence of alignments with sacred features and natural landscapes. It survives as a perfect and quite extraordinary example of Inca planning and engineering. It's been around so long due to the superb construction and drainage of the terraces. How they managed to carve the perfect drainage system in the rock is a mystery to me!! The masonry work is mindblowing, you cannot even slip a coin between the huge carved stones… some are like a huge interlocking jigsaw, sloping inwards to make the structures more flexible and solid.

The Inca's were so far ahead of their time… they spread the risk and were able to think vertically, i.e. agricultural terraces. A definite relic of the Inca's prowess. They could experiment with produce that grew at different altitudes and temperatures – so much so that they apparently had about 1200 varieties of potatoes!!! Nowadays the Peruvian markets only have about 400 to offer. They certainly turned the rugged Andean geology to their advantage.

The abandonment of Machu Picchu may simply be explained by the death of the Inca King, Pachacutec and the construction of a new 'royal estate' for the next Inca, as was the custom. Other scholars suggest that the city's water supply may have dried up". Who knows… so many theories exist.

So after an exhausting afternoon and a zillion pictures later, it was back to the hotel for a quick shower and then a stroll into town for a bite to eat… yip! You guessed it – pizza! After being lured into a restaurant on the square by an offer of 4 cocktails for the price of one (we definitely deserved it!), we studied the menu and were appalled at the level of English. It was shocking really, for a town that thrives on tourism, and English being the most popular language next to Spanish, you'd think that they give a damn and even pay someone (or use the internet!!!!) to translate their menu and make it even slightly appealing. After that grumble, the pizza wasn't too bad and the last drinks were a lot larger than the first!! We made our way back along the train tracks to the hotel and fell into bed. Exhausted after a serious 4 hour stairclimbing session. I was very anxious about our climb to the top of Wayna Picchu the next morning…. Would my legs carry me to the top?!

Up bright an early – we made our way downstairs… surprisingly spritely I might add! Enjoyed a delicious breakfast and then set off round about 6:45am (a little later than anticipated) to catch the bus back up. It was quite a strange sensation being there so early and with not many people about… the fresh morning air crisp on our faces. The low lying clouds made Machu Picchu seem quite surreal…

We ascended what seemed like 500 steps (again) to the top to make our way across, past the Temple of the Three Windows, and the Astronomical Observatory and down past the Llamas feeding in the square, and onwards up more steps carved out of a solid piece of bedrock, then along past the Ceremonial Rock (a solid piece of rock about 6m x 5m carved to mirror the huge mountain behind it…. we finally reached the entrance where we both had to sign in (only about 300 people are allowed in daily)… then began our mission to the top – luckily it was mostly stone steps (!!) quite big ones at times… Ken complained, but I said even people with long legs battle with big steps. We stopped every so often to catch our breath, it was not easy – but not as difficult at I thought. The last stretch was incredible, it was so steep that the steps were right in front of your face and you were literally on all fours standing up! Took us about 40 mins to get up there…. Don't know how high it was, but definitely a couple of hundred meters for sure. Let me just say one thing. The view from up there was worth every bead of sweat, burning lungs and aching thighs. Breathtaking does not even begin to describe it. It will be forever imprinted in our mind's eye. We stayed about an hour before making our way to a lower terrace for more picture taking, then made our way back down – surprisingly fast paced…25 mins to ground zero!

We'd just made it down when it started to rain, so we headed for the undercover cafeteria area, which by now was rather packed as there is no shelter there other than the Sanctuary Lodge. With breakfast burnt off it was time to savour our left over pizza and a juice - and enjoy the company of another couple from Canada. It was not long before the sun was out again. We were amazed at busloads of people being dropped off. The place was heaving. I was thrilled that we had our tour the previous day as I managed to get a few "people free pics". We're visiting in winter where they average about 1000 people a day, in summer that figure shoots up to 3500 (!!). We fought our way through the groups of Asian, Japanese, English and Americans and again ascended the 500-odd stairs (my legs were rather tender by now) to the top and managed to find a rock to perch on and just chill and savour the last hour we'd spend at Machu Picchu. Occasionally being asked to take a picture of someone as we were in quite a good spot. Took a few more pics ourselves and then headed down to the bus.

Our bags were being dropped off at the station, so we had some time to mosey around the huge undercover tourist marketÂ… most stalls selling very similar items (if not the same!). The train was jam-packed and we were looking forward to a late afternoon napÂ…

Arrived in Cusco around 7pm… we were starving so we decided to try and find Jack's restaurant (recommended by friends) – got blank stares from a few people but soon someone pointed us in the right direction. The funny thing about the Spanish in South America is if you just don't say it exactly right – you don't stand a chance, but between us we get by. Jack's turned out to be FAB, huge reasonably priced portions of simple but delicious food. It was freezing when we left but we decided to have a brisk walk around the square and have a look at some of the shops that were still open. …

…if you're a local you're either a taxi driver, a legitimate Tour Operator (and there are many that are not); or you'd stand on the street corners selling body massages (for the weary travellers who've hiked themselves senseless)… or you get your very cute (but pushy) kids to sell knitted finger puppets (you'd train them to follow tourists around and nag them to death, but don't give in if you don't need them!!!) – or you'd have a restaurant (located between 6 others) and have someone stand outside whose sole purpose it to try and entice you inside. This said, by the time you've walked one block all you've said is "no gracias" at least 50 times. Can be rather annoying if you really don't want wanything. But this is Gringo Alley.

Back at Sumac Wasi, our camera batteries were recharging and we were ready for recharging too!! Had a shower and fell into bedÂ… at that stage I did not mind the brick of a pillow beneath my head or being pinned to the bed by 4 heavy blankets!!

It was another early start and today (our last day) we were off to do the 8 hour Sacred Valley tour. This was the key area of settlement to the IncaÂ's. ItÂ's agreeable climate and very fertile plains make a rare and fruitful combination for the high Andes. It was also the route to the jungle so the Sacred Valley served as a buffer zone, protecting Cusco from incursions of the Antis, the fierce jungle tribes who, from time to time, raided the highlands. Today the valley remains a beautiful lush agricultural region supplying Cusco with much of itÂ's maize, fruit and vegetable produce.

Our hotel manager kindly arranged for us to board the bus rather early, enabling us to pick the best seats! About 30 minutes later we were ready to leave, our local guide spoke fluent English and was extremely informative and had a good sense of humour!! En route to Pisac we stopped at a local craft shop, then soon after we stopped at a lookout point affording us the most gorgeous view of the valley below. Pisac ruinsÂ… a major tourist attraction, here we had people selling chocla; an ingenious machine that peels oranges and then another (not so ingenious) that squeezes all the juice out of them; and 2 local woman dressed in all the colourful garb making handwoven belts. DidnÂ't have time to waste here, it was history lesson number one.

A vital Inca road once snaked its way ip the canyon that enters the Urubamba Valley at Pisac. The citadel, at the entrance to the gorge, now in ruins, controlled a route which connected the Inca empire with Paucartambo, on the border of the eastern jungles. Set high above a valley floor patchworked by patterned fields and rimmed by vast terracing, the stonework and panoramas at PisacÂ's Inca citadel are magnificent. We were able to catch our breath hereÂ… there was a young boy playing the most wonderful tune on a flute that could be heard for miles and miles. Our guide was eager to move onÂ… up. There were groans from some of the others. Gosh, here I thought this was going to be a leisurely day trip!! WRONG! She too was like a mountain goat, my legs and lungs were protesting, but it was go or get left behind!! The terraces, water ducts and steps have been cut out of solid rock, and in the upper sector of the ruins, the main Sun Temple is equal of anything at Machu Picchu. Above the temple lie more ruins, mostly unexcavated, and among the higher crevices and rocky overhangs several burial sites are hiddenÂ… thank goodness we didnÂ't need to view any of this!! After a 30 minute walk we were back on the bus, chocla in hand - and ready for the Pisac Market.

Pisac (alt 2970m) is a picturesque Andean town best known for its Sunday market, which draws hundreds of tourists each week. But today is Saturday and thankfully weÂ're able to wander around without being pushed and shoved by over-eager tourists. The market retains much of its local charm, at least in the part where villagers from miles around gather to barter and sell their wares. Some guidebooks have stated that handicrafts are cheaper here than in CuscoÂ… that all depends on who is selling and how well you can barter! We had a rushed 30 mins before we had to board the bus and head off to have some lunch.

After lunch we made our way to Ollantaytambo (alt 2800m) which is the only Inca settlement still inhabited by people. ItÂ's a very attractive little town located at the western end of the Sacred Valley. The town had been built on top of original Inca foundations and is the best surviving example of Inca town planning. It is divided into canchas (blocks) which are almost entirely intact. Each cancha has only one entrance (usually a huge stone doorway) which leads to a central courtyard. The houses then surround the courtyard. The town is located at the foot of some spectacular Inca ruins which protected the strategic entrance to the lower Urubamba Valley.

As we entered the ruins I looked up and just knew we'd soon have to climb at least 200 steps the get there!!! Ouch. The temple area is at the top of the steep terracing which helped to provide good defenses. Stone used for these buildings was brought from a quarry high up on the opposite side of the Urubamba river – and incredible feat involving the efforts of thousands of workers. The complex was still under construction at the time of the conquest and was never completed. After Manco Inca was defeated by the Spanish at Sacsayhuaman following the unsuccessful siege of Cusco in 1536, he retreated to Ollantaytambo. Francisco Pizarro's brother Hermando led a force of 70 cavalry, 30 foot soldiers and a large contingent of natives to capture Manco Inca. The Inca forces, joined by neighbouring jungle tribes, rained down showers of arrows, spears and rocks upon the unfortunate Spanish troops. In an intelligent move the Inca's flooded the plains below their stronghold making it difficult for the horses to maneuver. Hernando, uncharacteristically, ordered a hasty retreat. Ollantaytambo became the only place ever to have resisted attacks from the Spanish. However, their victory was short lived when the Spanish returned with four times their previous force. Manco Inca retreated to his jungle stronghold in Vilacabamba and Ollantaytambo hell into the hands of the Spanish.

Again the masonry work here is spectacular – can't fit a coin in between the huge rocks. Perched on the sides of the mountains are the storehouses, and all the perishables therein were kept cool by the crisp mountain breeze. Hematite was used for the carving of these rocks and apparently it's not as hard as you think!!

Back on the bus it was time for an hour long drive to our last stop – Chinchero. It's a small village located high up on the windswept plains of Anta at 3762m, and about 30km from Cusco. En route oohd and aahd over the spectacular views overlooking the Sacred Valley and the snowcapped peaks of Salkantay. Chinchero is believed to be the mythical birthplace of the rainbow. Again, its major claim to tourism is its colourful Sunday market. What is it about Sundays?! The village is actually very picturesque and mainly comprises mud brick (called adobe, made from clay and hay) houses and the locals still go about their business in traditional dress. Our guide led the way up a very steep road, thankfully we soon hit a left and the road leveled out and wound its way to the main plaza, which was lined on one side by a beautiful adobe colonial church dating from the early seventeenth century. It has been built upon the foundations of either an Inca temple or palace. The ceilings and walls are covered with beautiful floral and religious designs… eat your heart out Leonardo! Ken and I didn't spend too much time there as we wanted to have a look around in some of the local craft shops. A favourite pastime!

If you live in this village, you too would train your children to become very convincing salesmen/woman. Ken had one haggling him to buy some half finished weaving project that was supposed to go on our wall… luckily we don't have a wall! She was very good, but became rather annoying as she didn't know when to give up and move on to the next Gringo – so much so that she followed us right to the bus – unfortunately we were sitting right in front so she could see us from where she was standing (they are not allowed on the bus, thank goodness!!!). Little minx.

Soon we were on the road again and in no time were back at Plaza de ArmasÂ… JackÂ's was calling!! It had been a long, but good day, and my head was buzzing from all the information. Tomorrow would be another early start as our plane was to leave at 7:30am. I was so looking forward to just being able to lie-in for one morning!! But who was I kidding, definitely not for the next 2 weeks at least - because in just 2 days and weÂ're off again on the big silver birdÂ… this time we were headed to England for KenÂ's sonsÂ' wedding on 31 March. We foresee it being a very rushed trip as weÂ're headed back on 4 April!! WeÂ're definitely going to need a holiday from our holiday!!


It was a long uneventful travelling day and we finally arrived back on the boat at about 2pm.

What an awesome experience this has been.



Diary Photos
14th Mar 2007 Machu Picchu
---
14th Mar 2007 Saksayhuaman
---
14th Mar 2007 Saksayhuaman - huge end rock weighing hundreds of tons
---
---
14th Mar 2007 Cusco - Plaza de Armas
---
---
14th Mar 2007 Saksayhuaman - posing with the locals
---
14th Mar 2007 Machu Picchu - more exceptional masonry
---
15th Mar 2007 Aguas Calientes
---
15th Mar 2007 Aguas Calientes
No Description
---
15th Mar 2007 Machu Picchu - what a cool drain!
---
15th Mar 2007 Machu Picchu - perfect masonry
---
15th Mar 2007 Aguas Calientes - the raging Urubamba River
---
15th Mar 2007 Machu Picchu
---
16th Mar 2007 Peruvian crafts
---
16th Mar 2007 Machu Picchu - the steep climb to the top of Wayna Picchu
---
16th Mar 2007 Macchu Picchu - bird of prey at Wayna Picchu
---
16th Mar 2007 Wayna Picchu - awesome view from here!
---
16th Mar 2007 Wayna Pichu
---
16th Mar 2007 Wayna Picchu - Urubamba River
---
16th Mar 2007 Wayna Picchu - Majestic mountains surrounding Machu Picchu
---
16th Mar 2007 Machu Picchu - view from the main square
---
17th Mar 2007 Local children out to get the tourists!
---
17th Mar 2007 Ollantaytambo
---
17th Mar 2007 Ollantaytambo
---
17th Mar 2007 Ollantaytambo - how's this for precision!
---
17th Mar 2007 En route to Chincero
---
17th Mar 2007 Machu Picchu - ingenious terraces
---