Sailng on Windwanderer.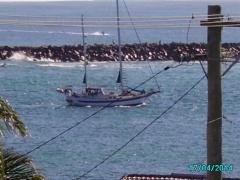 21st Apr 2014
Monday 21st April 2014
Monday 21st April 2014
Well here I am or should I say here we are, we are back on our next adventure.
At the moment we are being rocked all over the place, it's cold and we well and truly need to head up north into warmer weather.
We are anchored off Salamander Bay. We left Lake Macquarie, on Friday morning, our journey actually started the day before, we motored to Pelican, which is a little spot just before going under Swansea bridge.
What a trip getting there, they had dredged the lake while we were there and we were assured that we would have 2-1/2 meters depth even at low tide.
They lied...we hit bottom 3 times, the third stopped us in our tracks, I'm sitting there thinking tow time and having horrible thoughts of the dramas we had getting in here, surely not all that again, but low and behold, The Captain got us moving, again yay.
But the fun wasn't stopping there now we had to anchor in the only deep spot around here, with the channel on one side, a sand bank on the other, wind howling and the current flowing against the wind, talk about stress levels in overdrive, and we are not even out in the ocean yet. But after only six times ...haha, going around in circles we finally managed to set the anchor, The Captain had a huge list of to do things on deck, myself needed a nana nap..haha
So bright and early the next morning we are up, ready or not to continue this journey, last night we made contact with Marine Rescue to let them know we were leaving, find out conditions, etc and book a bridge opening.
They warned us about the shipping containers that had fallen off a ship near Sydney, 3 had been accounted for but there was still a few missing, we had already heard about this, from my brother the day before and had made the decision to do a day sail, other Than a night sail, at least we could keep a look out for them.
So racing around like two maniacs we got everything in order and started off, I had a count of 14 boats going through the Bridge, The Captain says 9... Haha
and almost the same amount to come in.
We made it through the bridge with no dramas other than ageing ten years and more grey hairs, only to be faced with ten or so boats all sitting in the channel.
Oh man, The Captain is trying to find a maker, as it's very shallow water and we need to be in that channel, he makes a split second decision to go straight into the flotilla of boats, I'm yelling saying you can't there are two many boats, he is like watch me, yeah he was mighty annoyed that they could be so stupid to block the channel.
Well I tell you there were bow thruster starting in all directions, and boats parting like the Red Sea...haha
And we made it, I'm not so sure how as I had my eyes closed...haha
But we were through and made it back out into the wild blue ocean, and man was it wild, we had huge swells, I was popping seasick pills like crazy and even The Captain, was a bit green.
Other than being in the middle of a yacht race with one yacht getting very up close and personal at one stage, it went ok, we saw no containers at all.
It was a long day trip there but we were back in full swing, it did not feel like we had been out of the game for four months.
As we were approaching the entrance into Port Stephens, I got a little fright when I saw a black fin swimming straight towards us, yeap it was a three foot shark, The Captain raced over to my side to check it out and frightened the poor thing and it raced off real quick..Haha
We made it into the entrance over the bar, only just missing an island and surfed our way into the bay, it sure was rough. But we managed to anchored in Shoal Bay for the night.
We had just set the anchor when a boat sailed passed very close, it was two guys that we had met at Croudace Bay, so of cause we had to go over for Happy Hour on their boat where we meet his wife as well, it was a very nice evening catching up.
The swell had not settled one bit, after trying to sleep in our bed and almost getting thrown out we decided to sleep in the Cock pit, and not very well at that, in the morning we decided to move and head up to Soldiers Point, where it was nice and calm.
My Daughter Maddy and her man Jason joined us there we had a lovely visit with them and a sad goodbye.
But at least we will fly back home more often this time so it should be a lot easier on all of us.
And that brings us back to Salamander Bay we moved here yesterday so we could walk to a shopping centre and get some fresh stuff, man where is a car when you need it.
We had a loan of a car the whole time we were back, thanks again Russ, it was a life saver.
I won't bore you to death about all the details of our last four months back home, well maybe a little, we had birthdays, Christmas, a brand new bub, yeap we made it home in time for the Birth of The Captains daughters first Child.
Little Isabelle Rose came into the world on 10th January and has stolen our hearts completely, she has a mop of auburn hair and is so so cute.
Craig Marion's husband had a 50th surprise birthday party and we dressed up as Caribbean Pirates, haha
Mum and Dad celebrated another birthday, and I managed to be home for My daughter Beks Birthday as well.
We had a weekend away At Meg and Russell's trout farm, I caught up with my best friend Lyn, and kept here company every second week at work when she had to travel a long distance, thanks Lyn for reminding me why I left work haha, but we sure had a lot of laughs, was just like old times again, I sure am going to miss you.
We also roped in a fair few family members to help us anti foul the boat, you guys were a great help. And of cause the million and one boat repairs, that has almost sent us broke.
We also had the never ending visitors to the boat almost all the family members came out to check out our new home, and even got the boat onto a dock so my mum and dad could have a look around, it was great, it was a very special moment in our lives.
Have we done everything we wanted to, not even close, but we managed to do as much as possible and also have a nice rest and recharge our batteries.
We did not have a big farewell, just caught up with each of them one on one and said goodbye with not so many tears shed this time, I think they all have faith in us now that we live this crazy life and survive.
Today Bek, Anthony and Tim are coming to visit and to farewell us off and on Wednesday My Brother Darren, Renee and there kids are visiting than we will set off again.
Well tomorrow is another Day.
Diary Photos
21st Apr 2014 Leaving Swansea.
No Description
---
21st Apr 2014 Craig and Marian.
No Description
---
21st Apr 2014 The Deck Scrubber.
No Description
---
21st Apr 2014 The Captain.
No Description
---
21st Apr 2014 Beks, birthday at the races.
No Description
---
21st Apr 2014 More Birthday fun.
No Description
---
21st Apr 2014 Burthday fun.
---
21st Apr 2014 Mum and Dads birthday.
No Description
---
21st Apr 2014 Not quite Jack and Rose but close.
No Description
---
21st Apr 2014 Mum and Dads Visit.
No Description
---
21st Apr 2014 Robyn and Mark being Jack and Rose.
No Description
---
21st Apr 2014 Maddy and Jason being Jack and Rose.
No Description
---
21st Apr 2014 Myree being Rose.
No Description
---
21st Apr 2014 Up on Russ and Megs Farm.
No Description
---
21st Apr 2014 My Beautiful Mum.
No Description
---
21st Apr 2014 Birds visiting.
No Description
---
21st Apr 2014 All finished.
No Description
---
21st Apr 2014 Boat all primed ready to paint.
No Description
---
21st Apr 2014 This little one has stolen our hearts.
No Description
---
21st Apr 2014 So cute
No Description
---
21st Apr 2014 Isabelle Rose
No Description
---