Sailng on Windwanderer.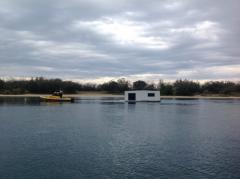 3rd May 2014
Saturday 3rd May 2014
Saturday 3rd May 2014
Well we are anchored in Southport Queensland, right near Sea World at Surfers Paradise.
Should be like wow hey? Yeah well it's not, every touristy boat alive goes screaming past us, you have Aqua Ducks, Ferry's, a hundred and one thrill seeker boats, and the never ending pleasure crafts, all out here taking in the Views.
To think only a few short years ago, I was one of these tourists, I've been on the Aqua Ducks, the pleasure crafts and always wanted to have a go on those thrill seeker boats.
Man, I so do not want anymore thrills out on the water, we have a mental amount of it and we don't even try to...haha
Going back a bit to catch up on the last few days or so, as I'm still a bit slack at keeping my posts up to date.
While we were in Coffs we ran into the same guys from Port Stephens on a boat Called Camelot, they also made friends with another yacht, not sure of the name, but we all ended up leaving for Yamba together.
This is normally not my scene I like to be alone and do our own stuff, but they are such nice guys it's hard not to join in and besides we are all heading in the same direction anyway.
Of cause we lost sight really quick as they have a cat which sail a lot faster than us, but the other yacht left after us so they where behind us a fare bit.
Now the big entrance across the bar into Yamba, Camelot made it with flying colours although they did say it was a bit rocky, we come up to it, I take one look at the huge waves crashing, break walls on either side and look at The Captain and say you got to be kidding, there is no way I wanted to go into that.
After a bit of a merry dance out front dodging fishing vessels and a cruiser we started to head in, I have to say I was terrified and I even closed my eyes the whole way into the entrance, we surfed all the way in, and to The Captains credit he did a fine job.
We managed to get all the way into the river with not too much bother, well ok I was still stressing out major, but we made it safe and just before sunset thank god, and there were four other boats from previous anchorages there as well.
The following night we all met up on one of their boats for a happy hour, we were having a good time when all of a sudden I had one of my pain attacks, now I had eaten nothing wrong so all I can put this one down to was stress, great am I losing my nerve with the sailing stuff?
The next morning we decided to head off by ourselves as I was very anxious about crossing that bar again we radio the Coast Guard and they said it was nice and flat and should be an easy one, they lied.
It was shocking worse than the first time, this time the waves were crashing at the side of us and we were getting slammed big time, we finally managed to get out deep enough into the ocean where it settled down a lot.
With strung out nerves stress levels in overdrive We sailed along actually quite well, the wind was all over the place but we did managed to turn off the engine several times which was great.
Night time comes and I am now settled down ready to take over this vessel while The Captain has a sleep, all goes well for the first half hour, then all hell breaks loose, the AIS stops working, I saying to myself that it's ok this happens all the time, and besides look at all the other boats that sail without one, yeah no matter what I said the stress was there.
So I do everything I can think of to get this thing working again, after hours of deleting program's reloading program's loading and deleting maps onto the thing While jumping up every few minutes to dodge boats and getting a bit close to shore, I finally manage to get the thing up and running.
I settle down some and sit back to relax and turn on the radar and there is a massive mother of a storm cloud about to hit us.
Oh man I wake The Captain up real quick as we have all the sails fully out, when a storm is about to hit you need to take in some of the sails so you don't get thrown about so much.
When The Captain finally comes too, he has a look around and says lets wait a bit just to see, well that lasted five seconds the wind went from blowing 12 knts to 23knts we tried to get in the yankee with me on one side trying to slowly let the rope out while The Captain is on the other side winding it in, the rope slips from my fingers and goes wild, several times I had to duck to miss this missile hitting my face and it flys into the port light on the side of the boat breaking the backing plate, then goes on its rampage and breaks two life lines on deck, man what a mess.
We eventually get it under control straighten out the Port light as best as we can the life lines we will fix later, and try and settle once again, only now it's pouring rain and I mean bucketing down.
I lay down to have a sleep as it's now about two in the morning and a river of water lands on my butt and legs, are you kidding I jump up to a new leak, far out, the hatch in the cockpit has now sprung a leak on both sides, so we both are getting wet.
After a massive amount of wet towels wet sheets and wet blankets it finally stops leaking and I managed a few hours sleep.
But we made it into Southport safe and sound and sometime today I will try and dry everything out once again.
Well tomorrow is another day.
Diary Photos
3rd May 2014 Image
No Description
---
3rd May 2014 Image
You see strange stuff on the water
---
3rd May 2014 Image
Encore on our AIS she was a huge boat that we met up with in Fiji and Tahiti.
---
3rd May 2014 Image
Just a beautiful Rainbow
---
3rd May 2014 Image
Our anchorage
---
3rd May 2014 No Title
Views
---
3rd May 2014 Image
Sea World
---
3rd May 2014 Image
Surfers
---