Sailng on Windwanderer.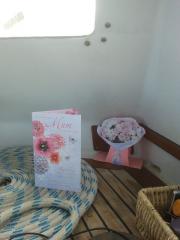 11th May 2014
Sunday 11th May 2014
Sunday 11th May 2014
Well a big Happy Mother's Day goes out to all you mums out there, I hope you all have a nice relaxing day.
Mine not so much relaxing, yeap we are back out in the big blue, rocking and rolling like crazy.
Am feeling sad also, as I miss my mum, and my kids, special occasions are always so hard, love you guys more than you will ever know.
I know I said I was slack and would write more often but time gets away so quick, before I know it a week as gone by already.
So what have we been up to this last week, well let me tell you, not a great deal...haha
The first two or three days we were closed up in here with pouring rain, we just hung out not doing a huge amount of anything, until I almost went crazy talk about cabin fever.
John The Captains friend come to the rescue and picked us up in his car to run a few errands, as they had a bit to do, they dropped me off at a shopping centre, to get some groceries with a promise of being back in a few hours, well five hours later they finally come back, I was not such a happy camper, there is only so much shopping you can do, coffee you can drink and magazines you can read.
Talk about magazines, I grabbed three at the coffee shop to read and the first one I read is a sailing magazine, man I am getting so sad...haha
We ended up going ashore a few more times, one was with John and Rosemary this time, we drove all over the place trying to find a place to get our gas tanks filled, I can't believe how hard it is to find a place, we eventually found a BCF that fills them and of cause I had to go check out the fishing gear and I bought some bait as well, yeah I am still fishing, just not mentioning it, as there is nothing happening, no fish at all.
I have also been feeling under the weather, am not sure if it's just a head cold or an infection but have been fighting off high temps and headaches for the last few days, not good I hate being sick.
Yesterday we had to go into the fuel dock and fill up this vessel of ours, we did our research before hand and took the dingy in the day before, to make sure it was an easy access as you all know how terrified we are of marinas, it looked fine so we set off early in the morning before the wind picked up and slowly made our way into the dock, we had talked to the guy before coming in and he said you just have to watch out for the first pole and the rest is easy.
Well of cause we didn't listen too well it seems as we slammed sideways into that pole, not too much damaged although neither of us are game to have a real good look.
So when you go and fill up your car next time spare a thought for us, try putting in 800 or so litres of fuel while crouching down in a tight place and holding in the lever as the clip thingy would not work man were my hands hurting.
We get all that done go to take off undo the lines the wind picks up and we almost took out the davits and solar panel with the 2nd pole, he didn't warn us about that one.
Man was I shaking talk about stress, does it ever get any easier?
Of cause we filled our days in with the few repairs that needed to be done, we had a beauty day on the boat, with facials and I played hairdressers, and not only dyed my hair, but I even put in some highlights as well, they actually turned out not so bad, The Captain was hiding most of the time, but I managed to hunt him down, no way was he escaping the scissors, his hair had grown so long, that I even put it in a pony tail when we went fancy dress to Craig's birthday party a few weeks ago.
Well he fought me all the way but I eventually cornered him and he got one well and truly good hair cut and a beard trim, I was a bit worried as normally his hair ends up all over the boat, and tends to hang around for weeks, it gets very clingy we sleep with it eat with it, it keeps us company all day and night...haha
But this time the wind was blowing so hard the only evidence I found was a bit of it in the dingy thank god.
So this brings us up to date for now, we are on our way to Fraser Island, we should make it in about 30 hours or so, sometime tomorrow we will have a new view and another place to explore.
Well tomorrow is another day.
Diary Photos
11th May 2014 My girls Mother's Day gift.
No Description
---
11th May 2014 Sunrise this morning
No Description
---
11th May 2014 A Church boat.
No Description
---
11th May 2014 She is really really big
No Description
---
11th May 2014 And another
No Description
---
11th May 2014 Encore
Up close
---
11th May 2014 Image
No Description
---
11th May 2014 No Title
No Description
---