Sailng on Windwanderer.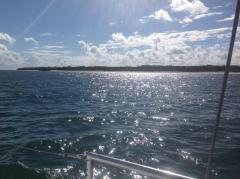 13th May 2014
Tuesday 13th May 2014
Tuesday 13th May 2014
Well here we are it's early morning, we are anchored just off Fraser Island in a little bay called Pelican Bay.
The sun is just coming up, it's chilly, quite a strong breeze blowing we are gently rocking and Wind Wanderer is singing.
Yes I know you may be thinking we are mad, but serious she does sing, or what we call singing, when the wind blows at a certain angle it catches the rigging on the boat and makes a noise, it really sounds like singing or music playing, or maybe we have been living on this here vessel way too long...haha
So are we going to explore Fraser Island? Well we sure were hoping to, but all good plans can come crashing down sometimes ours more so than most.... Haha
Yesterday morning out in the ocean we had a massive wind shift, and man it started blowing strong, with big choppy seas, just the kinda sailing that scares the life out of me.
We were also coming in close to the entry near Fraser Island, and it is a bit of a nightmare even in good weather to get in, there is a lot of sand banks and you have to navigate very carefully around them as some are quite shallow.
So the wind was blowing us onto these shallow spots, we decided to bring in the last sail, the Yankee that's the pointy end one.
We have had this sail repaired a few times before, and earlier I had noticed it was looking thin in a few spots, I told The Captain this, and said we may have to get it repaired again soon.
Well it came sooner than we thought, The Captain was trying to bring in the sail when the wind caught it and it started ripping, and all hell broke loose, I'm at the auto pilot trying to bring us around into the wind, Aut is having no bar of it and shutting down, we now have two pieces of sail and the water is getting shallower by the minute and don't even ask about the huge waves crashing all around.
We finally get it all under control, but by this time the Yankee is way beyond repair.
We eventually get into the bay, but man was it hairy, with big waves strong winds, just missing sand banks, and not to mention the ferry that takes 4wd's over to Fraser Island, we actually had to do a complete 360 just to get out of its way, I looked over at Fraser Island and it just looks like a huge sand bank, I'm thinking after going through all this it so better be worth it, but once we got into the bay it settled down real fast thank god.
We dropped the anchor had a warm shower and both had a much needed sleep.
So we have to leave Fraser Island behind and go onto Bundaberg and try and get a new sail made.
It will take us a few days to get there, we are going up the inside of the Island and have to be really careful with tides as there is a lot of sand banks here as well.
We are hoping we can order a new sail and we know we will have to wait a while to get it made, so we will come back to Fraser Island and explore it while we wait.
Well thats the plan anyway...haha
Well tomorrow is another day.
Diary Photos
13th May 2014 Fraser Island
No Description
---
13th May 2014 Fraser Island
No Description
---
13th May 2014 The Ferry.
No Description
---
13th May 2014 Image
No Description
---