B1 Adventures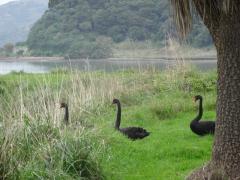 13th May 2014 - New Zealand 2014
Arrived in Akaroa
After a pretty drive over the hills and a stop for morning tea at Little River I arrived at Akaroa around lunchtime. The weather has been bleak and rather cold - glad I brought my NZ fleece!
My accommodation is a cute little cottage high on the hill over looking the harbour. It is a bit too far to walk to the village but the views and the grounds make up for that.
It was then down to the village for an explore and lunch. Lunch was seafood chowder which was perfect for today's weather!
Akaroa is a french inspired villige which was first settled by the French in 1840 and the narrow streets still bear their french heritage with many original wooden cottages. There are plenty of Art and Craft shops as well as boutiques and cafes although some are already closed for winter or are only opening at weekends.
By 5pm the rain had set in but I am hopeful it will clear by tomorrow!
Diary Photos
---