Sailng on Windwanderer.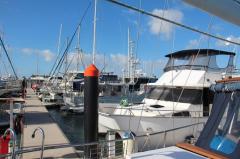 16th May 2014
Friday 16th May 2014
Friday 16th May 2014
Well it's early morning I'm sitting here trying to finish my first cup of coffee, and it's not going so good The Captain and Martin the sailmaker our trying to get our Yankee down and it has tangled around itself, and this boat being who she is, is not going to give it up without a fight.
Enter 2nd helper, another guy has come to give them a hand, man it's a struggle.
Yesterday we motored for around 6 hours in fairly deep water thank god, but man was it rough without the Yankee to stabilise us we rocked and rolled everywhere, but we eventually made it to Bundaberg Marina.
After a merry dance at the dock with Wind Wanderer wanting to tie up stern too, well after all she is a European design boat, ( for those not in the know in Europe when you come into a marina or such they all tie up there boats stern too that's the back end in.)
Well we were trying to get her side on and she was having no bar of it, the wind had picked up and kept blowing us away from the dock.
Eventually with help from two other guys we managed to calm her down enough, and got her snugly tided up.
Within a few minutes Martin the sailmaker comes down to the boat, we get to chatting and I ask him where the nearest medical centre is, The Captain was fighting me all the way on this, this time I was having no bar of it, he was going to get a doctor no matter what to look at his thumb, even if I had to hog tie him and carry him there myself.
With luck am not sure whose The Captains or mine...haha Martin was going into town and offered us a lift in.
So off we set we went via Martins house first as his wife also wanted to go into town, it was a long way there, I'm so glad I didn't have to carry him...haha
What lovely people they are, they showed us a lot of the sites around town and told us all about the big flood they had there last year, we had heard about it, on the news but seeing and hearing the effect it had on so many people really brought it home, what a shocking time they had.
We got dropped of at the local hospital and with only a short wait got to see the doctor again we were surprised at our nice and friendly all the people are around here, it must be country living for you, we even ended up with extra medical supplies given to us, to add to our first aid kit, at no cost at all.
They cleaned The Captains thumb, could not stitch it as it had been too long, he had a tetanus shot, and they redressed it gave him some antibiotics and we have to redress it every 2nd day.
So he survived the ordeal, he still thinks it was a waste of time, I don't and am glad we got it looked at. The next big thing was how to get back to the boat, we had decided to catch a cab, and had geared ourselves up for the shock of the cost, we walked out the door and there was Martin waiting for us, we were quite shocked, as it had been about two hours.
They gave us a ride back which was great and we settled in for the night, although we were still bouncing around the place as the wind was still very strong.
So getting back to the Yankee sail it's still up, they managed to get it all furled out, started to pull the sail down and it gets caught on the mandrel and it won't budge, apparently the tube has twisted and it's now out of alignment, far out, so it's wound up again, and now we have to wait for a rigger to come up from the Sunshine Coast next week and fix it.
Man life is never easy on this boat.
Well tomorrow us another day.
Diary Photos
16th May 2014 Marina our home for a few days.
No Description
---
16th May 2014 View of the Marina.
No Description
---
16th May 2014 Nope up there us the problem.
No Description
---
16th May 2014 Brute force.
No Description
---
16th May 2014 Now three if them trying.
No Description
---
16th May 2014 Trying to get the Yankee down.
No Description
---
16th May 2014 Yankee
This should be one sail not two.
---
16th May 2014 The thumb.
At the hospital.
---