Sailng on Windwanderer.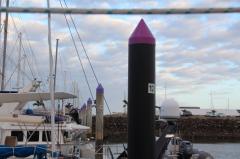 19th May 2014
Monday 19th May 2014
Monday 19th May 2014
Well a few days have gone by, yeah I know still not writing everyday but I'm getting better.
Besides there is not a huge amount to write about at the moment.
We have moved from the end dock at the Marina to what they call a pen. I never realised what number pen we are until I was taking a few photos yesterday afternoon and low and behold we are in number 13, oh man us being sailors, pirates whatever we are very superstitious, well I am at least, I sure hope it's a lucky omen, as we sure as hell don't need anymore bad luck at the moment....haha
The move to the pen took place on Saturday morning, there is a guy here who actually lives on his boat, we thought he was a marina guy, but no just a local, well he seems to think he knows everything, he was trying to tell The Captain how to tie up at a marina and all, I was biting my tongue and trying very hard not to say a word.
Well he decided that we had to move early in the morning before the wind picked up, we were already going to do this anyway.
He takes control makes a guy jump on board to handle the ropes, he completely ignored me.
Now anyone who knows me, if I have not even finished my 2nd cup of coffee in the morning they are treading on dangerous territory, well let me tell you I had not even finished my first cup.
The guy goes around to the pen to grab our ropes, we come around fine line up to go in, but we are getting very close to a pylon I yell to him to watch the bow sprit he ignores me again I yell at him and eventually between the two of us we push the boat away from it. Then he tells The Captain to reverse back and aim straight for the boat in front, by this time I'm standing at the front of the boat he is on the dock, I say to him he can't hear you and he has a blind spot dead ahead again he ignores me, man I was ready to punch him in the face.
I turned around and directed The Captain in with hand singles as we always do and we got in fine.
Man I was so livid The Captain smiles at me as who could tell how angry I was and once we were safely tied up although he was trying to tie us up his way, I stormed off, the whole time he never once said a word to me, it was like well she is a girl how would she know anything, I'm sure they think The Captain is the only one that sails this boat.
So rant over...haha
No wait I have one more, did I say I had nothing to write about...haha
Now so far all the boatie people we meet are really really nice, well that went out the window on Friday while I was doing some washing at the laundromat here at the Marina.
There were two dryers and I had a massive amount to dry, one of the dryers was being used and when it stopped I waited for at least 3/4 of an hour for the person to come back and get their stuff, one of my pet hates is sitting in a laundromat waiting on washing it has to be one of the most boring things in the world, and man have I sat in many all over the world.
So I decided to take it on myself she had a big bag there so I carefully got her clothes out of the dryer and placed them all on the bag, I made sure none was touching the counter or anything and yes they were well and truly dry.
She comes in says hi all friendly until she sees her washing man talk about huffing and puffing, I say to her I hope you don't mind but I just needed to get mine in, well she ignores me, did not turn around nothing, am thinking what is this, with all this ignoring stuff, I'm starting to get angry myself and I so felt like fighting her but she was a big woman, not fat at all just large, she was German and looked like a German tank, and stood about two foot taller than me, I'm thinking this is not such a good idea, so I smile sweetly at her as she walks out and she just glares at me.
I finish my washing and thinking to myself what a horrible person, but am glad I did nothing as it could of turned really ugly, I walk back to the boat and noticed she is on a yacht that is worth easy over a million dollars, it seems like having a lot of money does not give you good manners, see that's why we are so nice and friendly, we have none...hahaha
Well tomorrow is another day.
Diary Photos
19th May 2014 Image
Yeap we are the next one, dreaded 13.
---
19th May 2014 Image
I want a cockpit like there's.
---
19th May 2014 Image
The boat next to us, they are from Western Australia and just sailing all round Australia, two lovely guys.
---
19th May 2014 Image
No Description
---
19th May 2014 Image
Just an late afternoon scenery shot.
---
---
19th May 2014 Image
The sun trying to peak through the clouds.
---