Sailng on Windwanderer.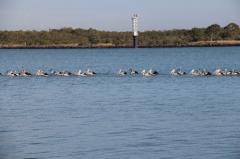 3rd Jun 2014
Tuesday 3rd June 2014
Tuesday 3rd June 2014
Well here we are back out in the ocean, yay, yay, yay.
I was so over Bundaberg and the Marina, it was a lovely spot, and I think this is the nicest marina we have ever been in so far, the only bad thing was it's just so far away from everything, to get anywhere you had to either walk a million miles or catch a bus or taxi.
We have had many boats come in and have met some really nice people, a big cat came in one night, and we had helped them tie up to the dock, later that night we were settled in for the night, in our PJ's and all, when the guy comes over and asked us over for a glass of red, well that turned into many bottles of red some great conversation and one very late night/early morning.
The Catamaran they were on was huge, but they are not the owners they just deliver it where ever the owner wants and have a fantastic time doing it, they spend a lot of time in The Kimberley's and had many stories with pics, I so can't wait to get there, I wanna by pass that big reef everyone talks about and go straight there...haha
Also we had The Captains friend/ ex sister in law, Meg come out for a visit, with her daughter Catherine, we had a lovely time and The Captain and her had a great catch up on all the lost years.
The next day they were going to the local market and asked if they could get us anything, we really did need some fresh produce, so gave them a little list, the next afternoon they came back with boxes and bags of fresh fruit and veges, way more than we could ever eat, but it was so nice of them, this time, they brought some old friends of The Captains parents and her son in law and the kids, we had a lovely afternoon and I'm sure Russ the son in law could not wait to get home and start looking for a boat to buy...haha
We have still been really busy, The Captain finally got the pole sorted out after days and days working on it.
I managed to finish painting the side decks, but discovered that the fantastic anti slip paint that we got in America is not one bit anti slip, man when it dried it was like walking on glass it was so so dangerous and that was with no water at all on it, heaven help us if it got wet, but it looked great..haha
So google to the rescue, we found that you can buy an additive to mix in with the paint, a quick trip to the local boat place here at the marina, and they had three different types, we ended up getting these little glass beads that you mix in with the final coat and that should work fine.
Man was it hard to paint I cursed the whole time, but at least it's now anti slip, maybe a bit too rough and the dirt catches in it, so the whole exercise of getting rid of all the stains and dirt was almost a total waste of time, man I just love playing boats...NOT.
A few days ago we found out that The Captains computer, and the one we run the AIS and nav stuff off, can not hold its liquor after The Captain spilt a glass of wine over it, there was a frantic rush to dry it out, and with The Captain holding a torch and yours truly pulling it completely apart and drying it all out, with fingers crossed we turned it back on and it worked fine, for 24hours than decided it had, had enough, and started doing strange stuff with the touchpad.
So a new laptop was in order great just what we needed after forking out for a new sail and riggers, but what can you do, it's a major piece of our navigation as well.
Meg came out and ran us all around town we ended up with a new laptop and some much needed shopping, we went back and had lunch at her house with her family it was a lovely day. If you get to read this, thanks again for all your help and lovely company.
And as Murphy's law goes we get back to the boat with our spanking brand new laptop, turn on the old one and it's now working fine....obviously the hangover didn't last too long...hahaha
Yesterday the riggers came out and put the pole back in place than the new sail went up, we are a bit disappointed with the sail as it seems a lot smaller than the last one, there is a not too happy Captain, about all this, but it still looks good and now we have all the sails matching, the only thing that needs changing now is the sail cover for the stay sail and all will finally be the same colour.
And that brings us up to date once again, I'm not going to promise to write daily anymore, as I'm just too slack, but at least we are on the move again so there is always something to write about, with luck we should be at Lady Musgrave Island, by late this afternoon, this is the start of The Great Barrier Reef, and yes we will be spending a lot of time sailing in and around the reef.
Well tomorrow is another day.
Diary Photos
3rd Jun 2014 Image
Even more pelicans
---
3rd Jun 2014 Image
Getting over run by pelicans.
---
3rd Jun 2014 Image
Fancy.
---
3rd Jun 2014 Image
Chinese Junk Boat
---
3rd Jun 2014 Image
One brand new sail.
---
3rd Jun 2014 Image
New sail about to go up.
---
3rd Jun 2014 Image
View as we were leaving Bundaberg.
---