Sailng on Windwanderer.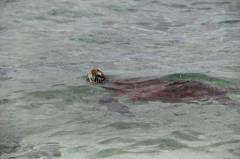 5th Jun 2014
Thursday 5th June 2014
Thursday 5th June 2014
Well we are at it again, we left around 7am and are heading for a place called Pancake Creek, it makes you wonder who made up all these names hey.
With luck we should be there in about 6 hours, we had a few scary moments getting back out, with yours truly back out on the bow sprit giving The Captain directions, boy did I stress I could only make out the coral about 6 feet ahead of us, some I just held on tight and hoped we would make it over.
Yesterday turned into a really lovely day, in the afternoon we took the dingy over to the island, again another hairy ride dodging coral, but we made it to the beach without kissing any coral and dragged the dingy up onto the beach.
What a pretty place it was, they have a walkway through the middle so you don't disturb the local wildlife , and we followed this around through most of the island, there was a sign saying this way to a camp area, so we decided to go have a bit of a look, it would be such a lovely place to camp for a week or so, it's right on the beach and very pretty.
We decided to walk on the beach around the rest of the island and spotted something dark swimming close to shore, to our surprise it was a turtle, well we just had to get photos of it and yeap The Captain took hundreds as we stalked the poor thing for ages. There were actually two of them and we managed to get a few good shots, it was lovely watching them just swimming around and I'm sure they taunted The Captain many times and just knew when he wasn't looking to pop their heads up....haha
We eventually headed back to the boat to grab a few party supplies, as we were invited to a dingy party off the back of a boat here in the lagoon, there is a couple who are sailing around the coast raising money for prostrate cancer, and charge $5 a head and give a little concert off their boat.
I was very unsure about the whole thing and we waited awhile for any of the other guys around to see if any of them were going, it was so funny cause everyone had the same idea.
Eventually one dingy decided to be the first off the mark and then we all started going over.
We ended up having a really good time and the the grand finale was we all got to see the famous green flash as the sun went down.
In the middle of the concert we had a small drama when one of the boats started drifting, the owner Pat got taken back to his boat where he tried for ages to get the anchor to set, with no luck at all.
The concert was rapping up when he came back with his boat and said it won't hold and he was heading out again to do another night sail, we told him he could just raft up to us for the night, it was a very small boat and we have very good ground tackle.
I kinda thought it was a good idea until the middle of the night and I'm still laying there wide awake.
This is the first time we have ever had anyone rafted up to us, and it's not pleasant from the creaking and groaning, to the horrible motion it was causing and adding to the worry of us all ending up on the reef nearby I did not get much sleep, but the guys seemed to have slept like babies, lucky I can catch up on my sleep today sometime.
Well tomorrow is another day.
Diary Photos
5th Jun 2014 Image
And the other we finally got a mug shot.
---
5th Jun 2014 Image
One if the turtles.
---
5th Jun 2014 Image
More seagulls chilling.
---
5th Jun 2014 Image
Just seagulls chilling.
---
5th Jun 2014 Image
The beach near the camp site.
---
5th Jun 2014 Image
More trees.
---
5th Jun 2014 Image
Beautiful trees.
---
5th Jun 2014 Image
Lady Musgrave Island.
---
---
5th Jun 2014 Image
Pelican again
---
5th Jun 2014 Image
Pelican the neighbour we had for the night.
---
5th Jun 2014 Image
Wind Wndererer in sunset.
---
5th Jun 2014 Image
The boat Peggy Anne.
---
5th Jun 2014 Image
Norm and Dawn.
---