Sailng on Windwanderer.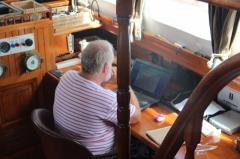 11th Jun 2014
Wednesday 11th June 2014
Wednesday 11th June 2014
Well we are still here, locked up on the boat, rain and winds blowing 25knts gusting 35knts.
Where I hear you say?, well we are in a area called Port Clinton, you would think with a name like that, it would be a hive of activity, well let me tell you there is nothing in sight, other then, water sand dunes and a hill thrown in here and there.
It's like a huge bay with very shallow spots and a lot of sand banks, on low tide.
I tell you when that tide goes out man does it get shallow, we have moved once as we were just way to close to a big sand bank, and did not feel comfortable being so close.
We left Great Keppel, on Monday, our plan was to stay at Port Clinton overnight and then move on to a much better anchorage, we knew there were very strong winds coming and big ugly seas.
The trip to Port Clinton was not pleasant at all with big rolling waves that threatened to tip us over any minute.
It reassured us that we were doing the right thing to hide out awhile and let this horrible weather pass.
But as always our good plans turn out the opposite to what we planned...haha
Here we are stuck in this area, and talk about cabin fever, I have the worst case possible.
I can't even go out on deck, for fear of getting blown overboard, if that is not enough we have had a lot of rain as well, and not to mention that we are well and truly in croc area now, although we have not seen any, we have read up that they are here and warn you about swimming in the area, it says a lot when you look at the other three boats that are dotted around here, yeap we are not alone these other poor souls are stuck here with us, although they are way away from us, it really is a big area.
But all these other boats all have metal dingy's that says it all in my books, crocs find it harder to bite through metal than rubber.
I did think about dropping the dingy and taking our chances with the crocs and going for a trip to shore just to break the boredom but that lasted a minute or so, when I stuck my head out one day and it almost blew right off, 35knots of wind is really really strong.
The first day here the winds were not too bad and I did a bit of morning fishing and caught nothing, the afternoon we got here I threw a line out and caught two small flatheads one I used for bait the other was set free, it's about the only thing I have caught in weeks yeap the lines are always out lures getting changed all the time, bait, no bait, and nothing, so I was pretty chuffed just to catch anything.
We have not been doing a great amount of anything, as it's so rough the wind blows us from pillow to post, one minute we are being blown so far on one side I swear we are going to be blown over than the wind whips us around to the otter side and for a change it blows us the other way.
We are constantly bracing ourselves from one side to the other and it's taking its toll I tell you.
We have had to venture out on deck a few times as the rigging flaps and bangs all over the place, we put up with it for a awhile until it drives us crazy, I give The Captain the look and up he hops to try and fix it.
Early one morning at around 3am I was out on deck trying to lower the boom, it had not dropped into the cradle enough and with every gust of wind it was sliding from side to side and making a heck of a racket.
The Captain was sound asleep, and I did not have the heart to wake he, although it was very tempting...haha
So out of bed I get, I drop it down in the cockpit and race out battling the huge winds drop it into the cradle make a mad dash back to the cockpit to tighten it back up, and there is my hero already onto it, or so I thought.
Apparently he was not so sound asleep as I thought or maybe with me bashing around on deck woke him.
We both go back to bed The Captain falls asleep again before his head hit the pillow, who does that?....man I so wish I could do that.
So I'm drifting off to sleep when the boom starts it's merry dance again, what the hell! Apparently The Captain had not tighten it up after all , he thought I had already done it and was just checking that I had secured it properly....yeah we need to work on this hero business a bit more.
With luck the winds and waves are suppose to settle tomorrow and we can get out of here, and maybe just maybe find a nice anchorage and get some decent sleep.
Well tomorrow is another Day.
Diary Photos
11th Jun 2014 Image
No Description
---
11th Jun 2014 Image
No Description
---
11th Jun 2014 Image
No Description
---
11th Jun 2014 Image
No Description
---
11th Jun 2014 Image
No Description
---