Harry and Judy's RV Trip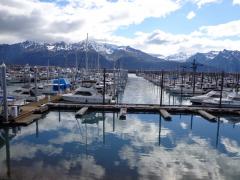 2nd Jun 2014 - Alaska 2014
Day 4-June 2, 2014-Kenai Fjord National Park Cruise & Holgate Glacier
Day 4-June 2, 2014-Kenai Fjord National Park Cruise & Holgate Glacier
Up early again to catch the shuttle to the cruise catamaran, the Glacial Express. We had breakfast at Resurrection Roadhouse and again ran into Kay & Greg and Kris and Bill. They were going someplace different from us today. It's warmer today, about 55 and sunny, bright blue skies.
The cruise is 120 miles roundtrip and about 6 hours long. We were seated with Jackie and Liam from Dyer, TN for lunch but could walk around inside, outside, up and down, all over the boat. Again, a great commentator from the National Park Services explained everything and had exhibits, i.e., an otter pelt and whale baleen. I spent a lot of time outside taking pictures of puffins, Dall sheep, sea otters, Stellar sea lion colony, bird rookeries, dolphins, humpback and blue whales and the beautiful mountains. The sea is calmer today, we heard lots of seasickness yesterday, glad it's better today. We went past Bear Glacier, the largest glacier in the park, into Aialik Bay and up to Holgate Glacier where we spent quite a bit of time viewing its gorgeous blue ice. It would calve every now and then (chunks would fall into the water). The crew picked up some of this glacial ice, chopped it up and made special drinks with it, called Puffin on the Rocks. Made with vodka and who knows what else. Great lunch while we were stopped here. On the way back we went through the Chiswell Island National Refuge in the Gulf of Alaska where lots of birds nest, then back to port. Talked quite a bit with one of the crewmembers, Ashley, who was from Michigan and gave me her phone number and e-mail to contact her if we go on an RV trip there.
Got off the boat about 5:45 and walked to the train station to catch the 6:00 ride back to Anchorage, the only time it returns. Again we ran into Kay & Greg & Kris & Bill who got off in Girdwood for their next trip. We continued on to Anchorage through the Chugatch Forest, filled with black spruce trees, aspens, hemlocks and willows. Much nicer on the open air decks this trip. Not too hungry again so we just had some salmon bisque. Saw some moose and buffalo in the distance and a little bear on the tracks in front of the train who scampered away before we got to him. Before we took off I was going through the pictures I had taken, went to delete a fuzzy one and deleted all of them instead. Glad Harry took some. Nice relaxing trip back to Anchorage station where the shuttle back to the hotel was waiting for us. Collected our overnight bags at the station, our luggage at the hotel front desk and checked for two more nights in Anchorage. Early and busy day again tomorrow.
Diary Photos
Diary Movies
---