Harry and Judy's RV Trip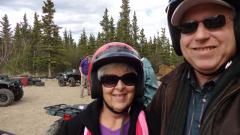 4th Jun 2014 - Alaska 2014
Day 6-June 4, 2014-Denali National Park
Day 6-June 4, 2014-Denali National Park
Another long day that started at 4:30 AM with a bit of a glitch. Our itinerary said the Anchorage Denali Express would pick us up at the hotel. Last night when I called to confirm they said they didn't pick up and we would have to take a cab or get a shuttle from the hotel. The front desk said their shuttle didn't go to the Egan Center where the motorcoach departed from and we'd have to take a cab. So we took a cab. When we got to the Egan Center we found out that the company we booked with had either not started up yet or gone out of business over the winter and the new one didn't pick up at the hotels. OK for us, we straightened it out in time, not so fortunate for one couple that didn't show up and were probably waiting to be picked up at their hotel.
The 5-1/2 hour, 150 mile motorcoach ride goes north through Eagle River, Wasilla, Willow, Talkeetna and a few smaller towns to the Denali National Park Entrance and our cabins at Denali Cabins. It was a beautiful sunny day, about 60 with unlimited visibility. We had magnificent views of Mt. McKinley (also called Denali or "the high one") with an elevation of 20,320' the highest mountain in North America and the Alaska Range the entire way. Only 1/3 of visitors get to see McKinley because of the crazy weather up there so we felt really lucky to see it.
Once at Denali Cabins about 12:30 we went next door to the only place to eat for miles, the Prey Restaurant, where we again ran into Jackie and Liam from Seward and joked that Alaska must be a small state because we keep running into people we know. They were on their way via shuttle to Backcountry Lodge. We were the first bus run at the lodge so they didn't have their act together yet-either at the lodge or the restaurant. The people on the shuttle were late because they were waiting for box lunches, our room wasn't ready yet and we had to wait for quite a while to get the luggage delivered to the room. But it's early in the season, they're working the bugs out and did get it right eventually.
The cabins are individual units, all resembling log cabins inside and out. Nothing luxurious about them but really all we need. There's a Lounge & Learn building with two TVs, a computer, books, comfy couches and other amenities. Very comfortable place. Patrick, the general manager, Olivia and Alden in the reservations office and Will (from Tarpon Springs, about an hour from us) and Melissa, both shuttle drivers all went way out of their way to make this stay special.
We were picked up at 2:30 by the ATV company, driven to their loading area and given a few pointers about riding ATVs. We rode along trails that abut the National Park, through rocky creek beds and up and down hills on a very dusty road. We were glad we had a double ATV with a windshield. The guides were very knowledgeable and we stopped a few times so they could explain where we were and we could take pictures. One time we stopped at a huge sand mountain, actually some sort of silt leftover from the glacier, and I would have loved some for my sand collection but, alas, nobody had a water bottle to collect it in. Harry and I took turns driving and we got back to the cabins about 6:00 for dinner at, you guessed it, Prey Restaurant, where the lunch menu is the same as the dinner menu and consists of mostly sandwiches and fries. Great sandwiches, but I'm starting to think the only vegetable in Alaska is fries. Back to the room-early to bed, early to rise!
Diary Photos
Diary Movies
---