Sailng on Windwanderer.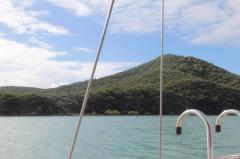 13th Jun 2014
Friday 13th June 2014
Friday 13th June 2014
We are rocking and rolling out here, but we are sailing...yay it's not often that we get to turn the engines off but today so far its great.
We have about 18knts of wind and cruising along at around 5.7 knts and Wind Wanderer is happy.
Yesterday we finally managed to get out of Port Clinton, in hind sight we really should have waited one more day, man was it rough.
The bow sprit (pointy end) was buried under the water more times then I would have liked, we had big big waves strong winds and a very lumpy sea.
And she was not happy one bit, man was this vessel of ours having a hissy fit, she kicked and bucked shook everything down below until things started flying in all directions, what a mess.
We had these mother of waves crashing on us, and several times they made their way inside, one in particular hit right over the top of us and managed to lift the hatch in the galley and dumped half of the ocean in there than went on its rampage and dumped the rest into the cockpit, this ran down the stairs like a waterfall, we were grabbing towels and anything we could find to mop up the mess as much as possible.
I sat here in the cockpit looking down at what looked like world war three had taken place, and just could of cried, yesterday I had spend a good chunk of the day cleaning, polishing, tidying I had this boat spic and span, I was not so happy about this new mess.
But we could do nothing about it, the only thing we could do was hold on tight and try not to get thrown from one side to the other.
It did settle down some as the day went along, it was still wild the only good thing about all this was knowing that in six hours we would be out of it.
And we were, we motored into a area that is called Cape Townshend island, holding our breath skimming over shallow spots dodging rocks, and come into the bay and right in front of us is a huge sign on the beach, Danger Bombing Range, far out.
We do know that right along this section of coast is a military practice range, but they only practice a few times a year so we put the radio on to listen if anything was happening.
I was out fishing off the side when the call come over, far out they were starting a practice, just our luck, The Captain listened very careful, well as best he could as it was a shocking reception and what he could make out the area we were in was safe, well we hope that's what they said.
Apparently when they are doing this kind of training the whole Army, Airforce and Navy get involved, it would be fun to be close to watch it all going down, just not in the middle of it all, with luck nothing happened around us so all was ok.
This anchorage seem a nice calm spot, I fished for a few hours, The Captain played his guitar, and all was right in our little world.
The fishing was nothing to write home about, I spend more time rigging my lines and changing to stronger lines, there were some big mothers down there and I can say that a lot are sporting brand new lip piercings.
Eventually after I lost a good chuck of my fishing gear, I decided to call it quits.
We settled in for the night, only to have a huge swell come in and were back rock and rolling all over the place....oh man I so need a decent sleep.
Well tomorrow is another day.
Diary Photos
13th Jun 2014 Image
The view leaving.
---
13th Jun 2014 Image
More islands
---
13th Jun 2014 Image
Look how they are tucked in here, sometimes I wish we had a Cat.
---
13th Jun 2014 Image
It really is a pretty spot.
---
13th Jun 2014 Image
The sign.
---