Sailng on Windwanderer.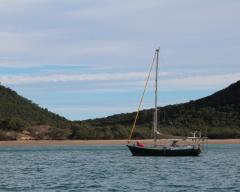 16th Jun 2014
Monday 16th June 2014
Monday 16th June 2014
Well it's very very early morning, we have been awake on and off through the night.
The wind has picked up major and it's gusting 30knots or so, and we are getting blown all over the place.
We are in a little bay called Curlew, we arrived here late Saturday afternoon, and what a sail it was.
The first half of the trip was fine but not much wind at all, we were motor sailing along when we noticed, some storm clouds they were building up really quick, with a little panic I started pulling down the covers while The Captain got the main sail in, we sure did not want too much sail out in this storm.
What a storm it was, we got hammered, with winds over 33 knots pouring rain and huge waves crashing over us.
I flew over to The Captains side of the boat and hung on for grim death, it's was so scary with the boat so far over on its side I was sure any moment we would tip over.
Between the waves and the rain they both managed to find their way inside the boat and talk about a mess, everything was wet, we are always baffled at our it makes it's way inside but it sure does, not one cabin was spared this deluge, I came so close to crying several times, I'm not sure if it was the storm or the fact that eventually I was going to have to clean up this mess.
It lasted well over two hours but eventually we got in around this island they call Curlfew and got the anchor down and we settled down some.
We mopped up as much as we could but had to leave the rest till morning when we could get the cushions and stuff out side to dry.
I tell you we slept well that night.
Yesterday was wash and dry day, we spend almost all day at it, we had planned to go ashore and have a nice walk on the beach, and stop to say hi to three other boats here, we kinda know them as they have been in many anchorages as us and we got together on one of their boats for Happy Hour once.
Ron on a boat called Roseanne, came over for a visit and that was it, we chatted the afternoon away, and actually had a really nice time swapping horror sail stories and such.
Before we knew it, it was dark and way to late for our walk.
We were going to leave today, as was Ron, but with this wind we are both sitting tight as I for one do not want to be out in the ocean again in this.
Well tomorrow is another day.
Diary Photos
16th Jun 2014 Image
Dons boat Rosanne.
---
16th Jun 2014 Image
Storm clouds
---
16th Jun 2014 Image
Storm clouds
---