Sailng on Windwanderer.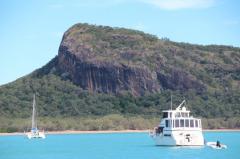 17th Jun 2014
Tuesday 17th June 2014
Tuesday 17th June 2014
Well we smell, or we must, actually we do but I'll get back to that in a minute.
Yesterday all the boats left us, except one.
These were the ones that we had meet up with before. They were Roseanne, Rene and Arkadies, we had tried to call them several times on the radio throughout the morning but never got a reply, we are after a weather report, and really wanted to find out what it was like out there before we stuck our nose out, to have a look.
Yesterday when Ron was on our boat he said just google it, apparently they all have Internet here and have never lost it, yeap Optus you suck, we have had none for days and days and yeap they all have Telstra.
Anyway we watched them all leave and thought what is wrong with us?, do we smell, do they know something we don't, or are we just chicken.
You see it was still gusting 30knots or so, I actually think they were crazy but apparently they had had enough of this anchorage and that was that.
Yeah we do rock and roll a bit but I guess we are the biggest heaviest boat here so we handle the movement a bit better, but still it would of been rough out there, we were really happy with our decision to stay one more day, that was until just after lunch.
Enter why we smell.
I still wanted my walk on the beach, but the wind was blowing so hard it would of been miserable, so we waited for it to die down some.
The decision was made around 1pm we would go ashore the wind had dropped and The Captain was just going to try and listen to a radio station to see if we could get a weather report, then we could go ashore, yes I had been waiting all day.
All of a sudden we could here a helicopter, it got closer and closer, it not only came into view but it landed right on the beach.
Well this was exciting, I sure wish we had been on the beach when it landed, so with binoculars we watch what was happening, all we could see was a guy walking around and two pilots doing something at the chopper.
As you could imagine we had some way out stories flying around to why they were there, from some famous person wanting to buy the island to surveyors, to gangsters, you name it eventually we decided they were up to no good, why I have no idea...haha
So they hang around the beach for awhile, scheming up all their bad stuff when all of a sudden they take off again.
By this time they have four sets of eyes on them us and a boat that came in earlier, we are all hanging out on deck watching with binoculars, they follow the ridge of the island going back and forth and then disappear over the other side of the island.
Well that was a bit of excitement, we all settle down again, back doing nothing, when all of a sudden a big cloud of smoke drifts up from the other side of the island, I jump up thinking it's crashed, then we see more smoke in another area, than more and more,
They were starting fires, now we should have realised that it was a red helicopter so of cause Fire brigade.
But why? Why would they start a fire on a deserted island there is nothing here, it does not make sense at all.
But talk about burn and the smoke was terrible there were 4 boats in here now and you think at least they could of called on the radio on channel 16 and at least gave us a chance to close the boat up or more away.
But no nothing, so we have coughed and spluttered all afternoon and into the night and the smoke has got in everywhere.
I had forgotten Aussie bush fires it's been well over two maybe three years since we have been in one and yeap they stink, and nope. I never did get my walk on the beach, as it was just way to smokey.
Well tomorrow us another day.
Diary Photos
17th Jun 2014 Image
No Description
---
17th Jun 2014 Image
No Description
---
17th Jun 2014 Image
No Description
---
17th Jun 2014 Image
No Description
---
17th Jun 2014 Image
No Description
---
17th Jun 2014 Image
No Description
---
17th Jun 2014 Image
No Description
---
17th Jun 2014 Image
No Description
---