Sailng on Windwanderer.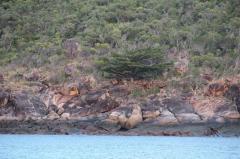 18th Jun 2014
Wednesday 18th June 2014
Wednesday 18th June 2014
Well it's very early morning, I love the peacefulness, of early mornings, I think getting up early sucks big time though.
I'm just sitting here way before sunrise having a cup of coffee, there is just a gentle breeze blowing, I can make out two other boats in this little bay, but only by their nav lights and all seems right in the world.
Enter The Captain, well he checks the battery power, yeap it's low, I knew it would be so I purposely didn't check it, All I wanted was my first cup of coffee in peace.
But no he turns the generator on to charge the batteries, oh well at least I got half a coffee in peace.
We are in a place called Scawfell Island, in a bay they call Refuge Bay, and I tell you we sure needed the refuge.
What a trip it was here, we had strong winds, and big ugly seas, it was like being in a washing machine the waves were easily 3mts and they were coming in all directions, we were getting thrown from one side to the next.
And just to add to the mix it was cold, I sat with a blanket over me almost all day.
It took 6hours to get here and man was it a long six hours, it was not a perfect anchorage as we still had strong winds and we were rocking and rolling a fair bit, but it settled down a lot in the night and we both managed a decent sleep.
So today we head for Goldsmith, it should only take about 5 hours if we are lucky, once we get there we are officially in the Whitsundays, yay I may just get my walk along the beach today if I'm lucky.
Well tomorrow is another day.
Diary Photos
18th Jun 2014 Image
No Description
---
18th Jun 2014 Image
No Description
---
18th Jun 2014 Image
No Description
---
18th Jun 2014 Image
No Description
---
18th Jun 2014 Image
No Description
---