Sailng on Windwanderer.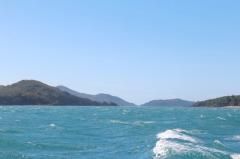 19th Jun 2014
Thursday 19th June 2014
Thursday 19th June 2014
Well we are not in Goldsmith Island, we have come to Shaw Island instead.
Once again it was a rough passage, it seems like we are destined to have big ugly seas and strong winds, they seem to follow us no matter where we sail.
We do have patches that settle some and we manage to have a really nice sail, but that does not last long and in no time at all, we are back hanging on for grim death, I have to say this is not pleasant sailing at all.
We managed to get to Goldsmith and I for one was happy, we made good timing and was there before midday, which was nice, it was such a pretty place with no one around and a nice big beach, my walk was looking good.
But no The Captain being who he is decided that, this place is still a bit windy, and we still have plenty of time why don't we go to the next island, which is Shaw island, it's only a few hours sail away, I could see my walk slipping away.
So off we set again, another shocking passage man it was rough, we motor into Shaw Island and it's blowing a gale here, great.
I did manage to have a little fishing time, but it was miserable out there, although I did catch a smallish fish, am not sure what it was but it was pretty...haha
And no I still have not got my walk on a beach, maybe tomorrow.
Well tomorrow is another day.
Diary Photos
19th Jun 2014 Image
No Description
---
19th Jun 2014 Image
No Description
---
19th Jun 2014 Image
No Description
---