Sailng on Windwanderer.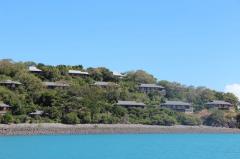 21st Jun 2014
Saturday 21st June 2014
Saturday 21st June 2014
Well we did not make it to Airlie Beach yesterday, instead we decided to come into a little bay in Hook Island, you know they just getter prettier as we go along, this place is almost perfect.
It's so quiet and peaceful, no rolling, no strong winds blowing nothing but calm and serenity.
The only thing wrong is there is zero fish here, serious I fished for an hour or so, not even a bite, nothing, nada, zilch honest, I tried all different stuff but nothing worked.
Yesterday as we were leaving, the tourist boats came in droves to white beach, it was actually nice to get away from there, we had a few scary moments having to go through some narrow patches near Hamilton Island but made it fine, talk about Hamilton Island it sure has developed like crazy there are high rises and holiday homes all over the place.
So today we will head over to Airlie Beach and get some serious shopping done.
Well as I'm sitting here writing this we get some visitors, two cockatoo's have come aboard, now by the look of these two guys, we are not the first boat they have visited before, talk about tame, they were so close to us I almost thought they would just come into the cockpit, they were being all cute and stuff it was really quite funny, we knew they wanted food, so The Captain goes down and gets some frozen bread, I'm thinking they won't eat it frozen, but hey they did not care one bit.
They made quick work of the bread, but they wanted more, one came and sat right beside me on the railing, and kept acting all cute until I went done for some more food this time I got some sunflower and pumpkin seeds, man they thought they were in heaven, only they never touched the pumpkin seeds but they gobbled up the sunflower seeds in record time.
The Captain protested about giving them anymore seeds as we have them with our breakfast cereal of a morning, so this time I got more bread, they looked at this and looked at me like, are you kidding me, where's the good stuff, but once they realised that was all they were getting they got stuck into in no time, they eventually had full bellys and off they fly, never to be seen again.
I did manage to get some great pics of them and they were happy to pose for the camera, not once did they move away I was right out there with them, and got really up close and personal to them, I so want a bird as a pet, I really want a macaw one day but these guys would be a close 2nd.
I'd like to get a baby Macaw and hand raise it, maybe one day when we sail into, the Amazon or such we may just get one...haha
Well tomorrow is another day.
Diary Photos
21st Jun 2014 Image
Hamilton island.
---
21st Jun 2014 Image
Hamilton island
---
21st Jun 2014 Image
Hamilton island
---
21st Jun 2014 Image
No Description
---
21st Jun 2014 Image
This stuff was floating all over the place.
---
21st Jun 2014 Image
All the tourist boats
---
21st Jun 2014 Image
No Description
---
21st Jun 2014 Image
No Description
---
21st Jun 2014 Image
No Description
---
21st Jun 2014 Image
No Description
---
21st Jun 2014 Image
No Description
---
21st Jun 2014 Image
No Description
---
21st Jun 2014 Image
No Description
---
21st Jun 2014 Image
No Description
---