Sailng on Windwanderer.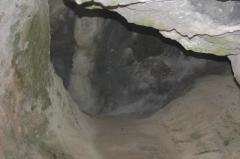 23rd Jun 2014
Still Monday 23rd June 2014
Still Monday 23rdth June 2014
Well we ended up going back to Hook Island, after poking our noses in here and there, to have a bit of a look at this and that.
The two reasons why we came Back to Hook island was number 1. it's so peaceful here, we just love it. The 2nd we have been told about a short walk at the end of the bay that leads you to an aboriginal cave, with paintings.
One of the Taxi drivers the other day told us about this, and said just look for the stone steps and yeah it's an easy walk, he was very young and fit, I was worried.
The 2nd was good old Alan Lucas, our guru book. We all know what he says are easy short walks, remember Everest on Great Kepple Island?
So we go into Refuge Bay, in Hook Island, it's a kinda running joke with us at the moment, as almost every 2nd bay we come to is called Refuge Bay, it's like guess what this Bay is called?
So with much trepidation we Dingy down the bay in search of these rock steps.
We eventually find them and it's sign posted...haha
We drag the dingy to shore and set off, I 'm not sure what I expected, I guess just a climb up rocks and then stumble up to a cave.
Well no being all touristy it's a well set out place, they have built stone steps all the way to the caves, little rest stops along the way and little stories about the tribe that lived here as you go along.
At the very beginning it says you need a good level of fitness to go up here, great I'm ready to turn around and forget the whole thing, but you know we are dumb and decided to push on.
I have to say it was hard work, but not as bad as other climbs we have done, and you got to rest a lot, cause you had to just stop and read all the stories.
We get to the cave very quietly as they say you should approach softly so you don't disturb the Aboriginal Ancestors, well we tried to go quietly, I hope the ancestors forgave our puffing and panting.... Haha
Being all the rules and regulations that Australia is famous for, well of cause it had a fence around it, just so you could not walk in and really have a great look.
But in all fairness, it's a good thing I suppose as at least it preserves it.
This was my first official Aboriginal Cave, yeah how sad is that I have lived here for 50 odd years and never seen one of their caves.
It was interesting the drawings where good one in particular looked so much like a dinosaur, I wonder if they were around in their time?
That's another tick off our list, we wonder on down and there is a charter boat having a hard time trying to anchor, us being all friendly and all decided to dingy over to them and see if they needed help.
Well they thanked us politely and said no we have it all set, so off we go shaking our heads, as we could tell by the angle of the chain in the water it was not set at all, oh well I just hope they didn't end up washed on the rocks or something.
We get back to the boat, and settle in I fished as usual The Captain played his guitar and we had the best night sleep ever, it was so peaceful here, and the stars were just magic.
Well tomorrow is another day.
Diary Photos
23rd Jun 2014 Image
No Description
---
23rd Jun 2014 Image
No Description
---
23rd Jun 2014 Image
No Description
---
23rd Jun 2014 Image
No Description
---
23rd Jun 2014 Image
No Description
---
23rd Jun 2014 Image
No Description
---
23rd Jun 2014 Image
No Description
---
23rd Jun 2014 Image
No Description
---
23rd Jun 2014 Image
No Description
---
23rd Jun 2014 Image
No Description
---
23rd Jun 2014 Image
No Description
---
23rd Jun 2014 Image
No Description
---