Sailng on Windwanderer.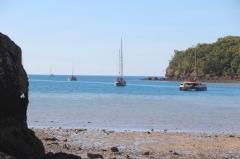 24th Jun 2014
Tuesday 24th June 2014
Tuesday 24th June 2014
Today we left our serene anchorage in search of some more adventures, and what a busy day we had.
A couple of hours got us into Blue Pearl Bay, were we have been told by the taxi driver again, our own little tourist guru....haha
That this has to be the best diving spots around, considering it was a nice hot day today, it's actually been too cold to swim at all.
So we grab a mooring buoy and decide to have a snorkel around, the only problem The Captain wanted to jump straight off the boat and slowly snorkel in to shore.
Normally I have no problem with this at all, but as soon as we were on the mooring, we had visitors, at least five bat fish, they are huge at least two foot long, I was not happy about jumping in around them.
He said they will be fine they are docile and just looking for food, that did not make me feel any better, as they may think we are food.
So The Captain jumps in and they swim straight to him, I watching holding my breath and they do nothing....haha
Ok so my turn, I jump in swim like a mental straight to The Captain, they come back around and one touched my leg, yeah I freaked out a fair bit....haha
But eventually with a tight grip on The Captains hand, we swam off, the fish just went straight back to the boat, most likely waiting for the next person to jump off and terrorise.
What a snorkel we had it was great the coral and fish were fantastic, we eventually made it into the beach.
We have been surprised at how many beaches around here from a distance look like beautiful sand, but when you get up to them they are just all dead coral, this was the same.
Coral is really hard to walk on bare foot, and flippers where not a option at all.
But we wanted to explore a bit, The Captain goes off in one direction looking at some caves, I in the other direction along the rocks looking for bait...haha
All was going well until I slipped on a rock and my foot come down hard on the coral, yeap two cuts, blood and swelling starting straight away.
Great so My Knight swims back to the boat and brings the dingy back for me, I considered swimming back with him but I was not so keen to swim with blood pouring out.
We get back to the boat, sterilise it and realise it's not so bad after all, we then decide to go onto our next anchorage .
Enter Butterfly Bay.
Now this one being the name it is, well yeap you can go on a little trek to see a heap of butterfly's.
Well we round the corner into the bay and apparently every charter boat as been talking to the same taxi driver...haha
We weave are way in and around this lot and find a mooring buoy, hook up to it and jump in the dingy to go ashore.
It was extremely low tide but we managed to get in close but had to walk a fair way in water to get ashore.
This beach was just all mud not very nice to walk on, but we were on a mission The Captain had been here many many years ago and remembered seeing these butterflies and how special it was, all you had to do was walk up a creek bed and there they were.
Well apparently his memory did not include the exact spot, after about the fifth creek bed, I was over it, who needs to see butterfly's anyway, The Captain decided to keep going and eventually found the right creek bed, but by this time I was already back at the dingy, while he was having his own little adventure I was having one myself, I had to walk out a long way to the dingy, as the tide was coming in, there was so many Steve Irwin killers ( Sting Rays ) around here, that you had to be really careful where you put your feet. I tell you after about the fourth one scaring me, I think I almost walked on top of the water in my frantic race back to the dingy, where I took a flying leap and landed in the dingy and that's where I stayed.
The Captain finally came back and after a small discussion on wether I wanted to face the Sting rays and creek beds again, I decided to give the whole thing a miss.
We went back to the boat and was faced with even more charter boats, oh man.
We decided to get going and moved around a few bays to a much quieter spot. We did rock and roll a fair bit, but I slept the sleep of the dead, not so much The Captain, apparently the rocking and rolling was a bit too much and he was up several times trying to stop stuff banging, myself just slept through it all.
Well tomorrow is another day.
Diary Photos
24th Jun 2014 Image
No Description
---
24th Jun 2014 Image
No Description
---
24th Jun 2014 Image
No Description
---
24th Jun 2014 Image
No Description
---
24th Jun 2014 Image
No Description
---