Sailng on Windwanderer.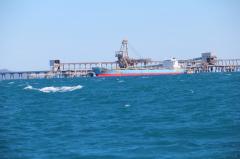 26th Jun 2014
Thursday 26th June 2014
Thursday 26th June 2014
Well we are back out in the deep blue and man is it rough. I so want to turn around and go back to the gentle anchorages that we have been having.
Today we left the Whitsundays behind, with a sad feeling, we have enjoyed this area so much, but we have to keep moving on.
We do know, we have not seen the last of the Whitsundays, after all it is in our own backyard and one day when we are finished with our big adventures, we may just get ourselves a cat and sail these waters for a while.
At the moment we are heading up to a section between islands called the Gloucester Passage, to me it seems very small and I am not sure at all how we are going to make it through.
Well we made it with a lot of breath holding, but The Captain had it all under control, well he looked like he did, we had to zig zag in and around a lot of shallow water I tell you, but we made it to the other side, man it was tense.
We made it safely to what they call Stone Island near Bowan, it was a rolly anchorage and I did not sleep well.
A new day another crossing today we sailed to a place called Cape Upstart, and in a little bay called Nobbys Inlet, at least that's sounds a bit like home.
The names of these bays are crazy, I have never heard of hardly any of them before, there is little settlements dotted here and there so people do live here, I wonder what kind of lives they have, I've always wanted to live by the sea or on a island and never thought I could afford it, well I tell you, here in our own country you can, you just have to get out of the main stream and find it, it's all here, I'm actually shocked at how many places you can actually go to and we have only seen a small part of this country so far, and they are so pretty and remote, no wonder everyone wants to come here and live, we have the most fantastic country in the world.
So tomorrow we head to Cape Bowling Green...hahaha told you the names are crazy and the following day we should be in Townsville.

Well tomorrow is another day.
Diary Photos
26th Jun 2014 Image
No Description
---
26th Jun 2014 Image
Coal loader.
---
26th Jun 2014 Image
Who wouldn't want to live here.
---
26th Jun 2014 Image
No Description
---
26th Jun 2014 Image
Baby eagle
---
26th Jun 2014 Image
No Description
---