Sailng on Windwanderer.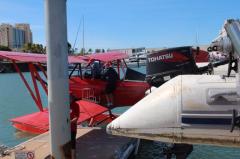 30th Jun 2014
Monday 30th June 2014
Monday 30th June 2014
Well the dreaded day is here, another visit to a marina.
Even though we avoid these like the plague we still have to get fuel unfortunately, so we work out when it will be high tide, as it's very shallow water coming into the marina.
We set off give the guys a quick ring to let them know we are coming in and hopefully they will be able to give us a helping with our lines.
They ask us how long we are as there is a seaplane at the end of the dock, great I'm thinking this will be fun...not, but at least I should get some great pics.
So we carefully make our way in, at one stage I could just not watch as we were getting very close to the break wall just as we get around a bend the plane comes out, well that's one less problem we have to deal with.
The plane is a old style like a tiger moth and painted red, it takes tourist out on scenic flights.
So we are going towards the dock but the wind is blowing us away from it, the guy yells to say come in around the other side it will be a lot easier.
Around we go and The Captain in fine style gets us right up next to it no hassle's at all.
As we fill up the plane comes back in, I grab the camera and quickly take a few pics and race back to keep an eye on the fuel thingy.
We cast off and out we go again all looking like we are professionals, haha if only they knew.
By this time it was getting on in the day so we make our way back to Magnetic Island were we spent the afternoon doing the washing and enjoying the nice spot.
Well tomorrow is another day.
Diary Photos
30th Jun 2014 Image
No Description
---
30th Jun 2014 Image
No Description
---
30th Jun 2014 Image
No Description
---