Sailng on Windwanderer.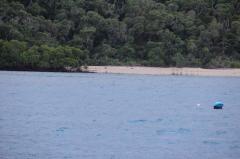 1st Jul 2014
Tuesday 1st July 2014
Tuesday 1st July 2014
Magnetic Island is such a pretty island, the rocks all around on shore are really something, it's like some giant has just picked them up and arranged them on top of each other, it's really strange how they just sit there and not roll off, it got us discussing all the possibles to Giants, aliens, earthquakes, you name it, but then it hit, it must be magnets after all it is called Magnetic Island...haha
So we leave this place and head off once again, this time to Orpheus Island, it was an ok sail, a bit rough and rolly, but we made it before dark, as we were coming in we noticed a few Marine Park buoys, so decided to pick one of these instead of anchoring, which is easy except I have to grab the thing as we fly past it, so far so good, I have not missed one in ages, how it goes The Captain lines up the boat, I race out on deck with the boat hook and grab the rope, then The Captain comes running to give me a hand to get the rope up and secured.
I ended up having a little fish off the boat, lost some tackle and caught nothing...haha
But it was cold, it seems the last few days has had me looking for long sleeves.
It's been quite windy and that wind sure has a chill in it.
Well tomorrow is another day.
Diary Photos
1st Jul 2014 Image
No Description
---
1st Jul 2014 Image
No Description
---
1st Jul 2014 Image
No Description
---
1st Jul 2014 Image
No Description
---
1st Jul 2014 Image
No Description
---
1st Jul 2014 Image
No Description
---
1st Jul 2014 Image
No Description
---