Sailng on Windwanderer.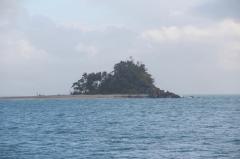 2nd Jul 2014
Wednesday 2nd July 2914
Wednesday 2nd July 2014
Where is the time going? Man it's the 2nd of July already.
Today we left Orpheus Island and are heading to Dunk Island.
I'm starting to get a bit nervous with each trip we are doing now, as we are well and truly in The Great Barrier Reef.
When you look at the chart plotter all you see is reefs, rocks, shallow water and islands.
It sure makes some interesting sailing, you have to have your wits about you that's for sure and there is no way I would want to sail these waters at night.
There was a few places we wanted to sail through the main one was Hinchinbrook Channel, it's supposed to be lovely to sail through with sheer cliffs and such, but by the time we got there it was very low tide and we would of most likely not made it through.
It can be quite shallow in spots and with all the groundings still fresh in our minds from a The a Great Sandy Straight, we decided to give it a miss, but it's still on our bucket list for one day.
So here we are in Dunk Island, it's pretty, but has that run down feeling to it, I guess it can't always be paradise.
Well tomorrow is another day.
Diary Photos
2nd Jul 2014 Image
No Description
---
2nd Jul 2014 Image
No Description
---
2nd Jul 2014 Image
No Description
---
2nd Jul 2014 Image
No Description
---