Harry and Judy's RV Trip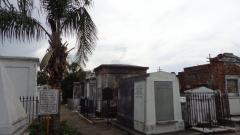 8th Jul 2014 - Summer 2014
Day 3-July 8, 2014-New Orleans, LA
Day 3-July 8, 2014-New Orleans, LA
Started out hot and humid but after a thunderstorm cooled down to about 85.
The campground shuttle will drop you off right in to the French Quarter but we decided to get off at the visitor's center and take the Hop On and Off bus around town. It's a double decker bus and we sat on the top which had a canvas cover but once it started to thunder, lightning and rain sideways we got a bit soaked. They gave out ponchos which were too little, too late. So we got off and went into Harrah's Casino to dry off for a while.
New Orleans, aka NOLA, is like no other city I've been to. It's a little French, a little Spanish, a lot bawdy and the food, music, and architecture set it apart from anywhere else. The city is separated by districts, such as the Central Business District (CBD). The French Quarter, The Garden District, with beautiful gardens because the Mississippi dumped rich silt on the area, The Warehouse and Arts District, and Treme, with Armstrong Park built to honor Louis Armstrong. It's a really old city, mostly run down after Katrina, but you can tell they're trying to build it back up. The devastation done by Katrina is still evident just about everywhere. In one of the parks there is a sculpture made from debris from Katrina depicting a destroyed house on top of a tree. There were a lot of tourists, especially in the French Quarter, and the little gift shops, restaurants and businesses seemed to be doing a good business. Didn't see any street entertainers like we did last time we were here but maybe the weather kept them at home. I especially like the cemeteries, built above ground because NOLA is below sea level, they're old and eerie, and most of them have a flavor of voodoo or some other sort of supernatural aura about them. I find them fascinating. The Mardi Gras building has tours where you can learn everything you ever wanted to know about Mardi Gras and see the floats and how they're built, there'a World War II Museum and the French Market where you can name you own price for stuff.
After way too much walking we got the shuttle back to the campground and relaxed for a while. Off tomorrow to another adventure.
Diary Photos
---