Sailng on Windwanderer.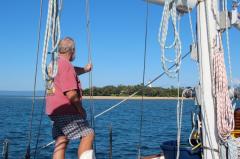 9th Jul 2014
Wednesday 9th July 2014
Wednesday 9th July 2014
Well it's early morning, we are anchored off a little island called The Low Islands, and there is a kinda dingy boat, with a tent thingy attached to it, and it's flapping and slapping in the water next to us, It's driving me Crazy, it's been doing this all night long.
Yeah as you can tell I'm not such a happy chappy this morning, with not much sleep from that damn boat and only half my first cup of coffee down, maybe I'll feel a bit better when I finish my 2nd cup.
But it is a pretty place, and we are in about 8 meters of water, it's so clear you can see the coral on the bottom,
Although it's a bit crowded, there has to be over a dozen boats here, as we were sailing closer or should say motor sailing as we had zero wind yesterday, we changed coarse several times and swapped sails from one side to the other, nothing helped, I actually don't think the wind blew over 7knts all day.
So it was a bit of a boring day, I had both my fishing lines out with no luck at all, I made date scones, with no luck at all, they taste good but just don't really look like scones...haha
Anyway getting back on track, The Captain came to these Islands in another life about 33 years ago, he was doing an expedition with a six others in little catamarans, one of the Cats had hit the reef near the island and they had to spend some time here doing repairs.
Back then the lighthouse was manned now it's all automatic, the lighthouse keeper and his daughter used to come down every day and chat, as they were camping on the beach and doing the repairs there as well, try doing that now, the tourist industry has taken over and yeah The Captain was a bit sad, that it had changed so much.
We would have liked to have had a walk on the beach, but we need to keep moving, besides the tourist boats will be here in their droves soon, and that's so not our scene.
So onward we go...haha that sounds like a country cowboy scene, you know Hi Ho Silver and all that, not sure what the yachty word for it would be, but I'm sure The Captain could come up with plenty.
I guess you can take the girl out of the country, but you can't take the country out of the girl.
Although we grew up in a town, we spent a good chunk of our lives at my Grandparents dairy farm, so I always see myself as a country girl, God the fun we had in those days with all our cousins, good times, good memories.
So today we will try to make it to a little place called Hope Islands, with luck we hope to have a bit more wind and be able to turn the engine off, and I hope my fishing is better today, all I want is one nice big fish we have our new BBQ all connected now on the back rail, and it's sitting there all nice and shiny just waiting for that fish.
Well tomorrow is another day.
Diary Photos
9th Jul 2014 Image
No Description
---
9th Jul 2014 Image
No Description
---
9th Jul 2014 Image
No Description
---
9th Jul 2014 Image
No Description
---
9th Jul 2014 Image
No Description
---