Harry and Judy's RV Trip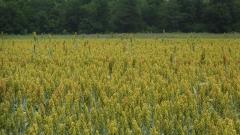 10th Jul 2014 - Summer 2014
Day 5-July 10, 2014-Rural Louisiana and Natchez, MS
Day 5-July 10, 2014-Rural Louisiana and Natchez, MS
Warm and sunny today, about 90 but not too humid, very comfortable.
Spent a lazy morning watching barges go up and down the Mississippi, one of them unloading something but even with binoculars we couldn't figure out what it was.
Somebody told us that Monterey and Eva, LA were nice places so we set out to see for ourselves. Passed lots of farms and fields of corn, soybeans and some crop I've never seen before. I put a picture of it in the picture section of the blog and, if you know what it is please let me know. Went through Deer Park where a sign proclaimed Population: Lots of good folks helping one another". Saw a herd of pure white cows resting under a big tree. Don't know what kind of cows they were.
Got to Monterey but there wasn't much there, a pretty lake was about it. After making a wrong turn and going a few miles down a road to nowhere with nothing on it we turned around and started from square one again. Finally got to Eva, on the other side of the lake. Again, not much there, but we found a big shade tree which was perfect for us to eat the lunch we packed.
Found our way back over the bridge to Natchez and the Old South Winery and tasted some samples. The wine was made from muscadine grapes, the same as in Florida and was a bit too sweet for us. From there we took a tour of downtown Natchez and some old pre-civil war mansions, some dating back to the late 1700's but most built in the mid 1800's when cotton made everybody rich. That all came to an end when the Civil War broke out. Many homes were left unbuilt because of lack of man power, resources or money. Beautiful homes and the crape myrtle trees were out in full bloom. Some of the houses you could go into but that is not Harry's thing. I'm surprised I got him to drive past as many as he did.
We then found ourselves turning down the street to go to the Isle of Capri Casino. This casino is a restored riverboat on the river. There's a parking lot about half way down the hill and then a shuttle takes you to the boat. Both this casino and the one we were at last night has a shuttle from our campground but we were on this side of the river already. Only stayed a little while and broke out even.
I think we've both had enough of the old historical south and it's time to head north a bit.
Diary Photos
---