Harry and Judy's RV Trip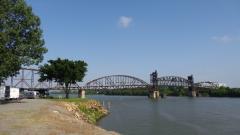 11th Jul 2014 - Summer 2014
Day 6-July 11, 2014-To Arkansas
Day 6-July 11, 2014-To Arkansas
Drove 259 miles in 5-3/4 hours. Temp about 85-90 but not humid.
Made a small mistake in following the GPS and not looking at the map. We went north on route 425 "The Colonial Trails Scenic By-way" a two lane road most of the way when we should have taken route 65, a four lane highway. I didn't realize this until we pulled over for lunch right over the Arkansas border when we had already gone three hours. It probably would have been longer but shorter seeing that we went through a lot of small towns where we had to slow down to 35. But we probably saw a lot more of rural Louisiana on this route and it was quite nice. We drove past lots of sweet potato and corn fields, on roads that were as rough as a washboard (LA has some of the worst roads in the country). There were big sprawled out homes, some with columns, neatly manicured on the outskirts of towns but in the middle of towns the homes were no more than hovels. Some of the smaller towns had most of the stores boarded up or abandoned and looked deserted. Each town had at least one Baptist church and some had several. This part of Louisiana had more than their share of rehabs, too. Substance abuse must be a big problem here.
It seemed as soon as we crossed over into Arkansas the terrain got different. There were more pine trees, some hills and more commerce-farm equipment stores, more gas stations, bigger towns and a Dollar General in every one of them. All of a sudden we're not in the deep south anymore. Thought we'd hit Friday night traffic in Little Rock but we sailed through.
Our campground is in No. Little Rock, a city started in 1903 when a man who lost the mayoral election in Little Rock petitioned to have the area north of the Arkansas River declared another city, and he then became the first mayor of North Little Rock. Talk about a sore loser. Anyway, it's a good campground for overnight - we don't have to unhook and it's right near the road we need to take tomorrow. It's city owned and is in the North Shore River Park right on the Arkansas River and just about under the Clinton Pedestrian Bridge, at 4226' long and 65' high over the river the longest pedestrian-only bridge in the country. It leads to the Clinton Presidential Library. We have a great view of the river, the Little Rock skyline and the library.
After hooking up we read for a while then took a walk to the river, where it's nice and cool under the trees. After dinner we sat outside and the bridge lit up blue, then all of a sudden the lights started blinking slowly, then more rapidly, then they changed to pink, red and white and back to blue again. All this under a full moon. Really pretty. Mosquitos started to bother us so we came inside where the Rummikub tournament continued.
Oh, and I found out what the mystery crop is - it's sorghum grain (also called Milo) used for molasses. I remember last year we had sorghum molasses at a restaurant in Missouri.
Diary Photos
---