Harry and Judy's RV Trip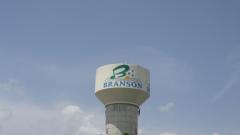 12th Jul 2014 - Summer 2014
Day 7-July 12, 2014-To Branson, MO
Day 7-July 12, 2014-To Branson, MO
Drove 178 miles in 4-1/2 hours. Hit 99 degrees today and sunny.
It's Saturday and as we leave No. Little Rock city park it's full and cyclists and boaters ready for a fun day on the river. We stopped for gas and met Otis Ussery at the pumps who gave us a detailed description of all the places in Arkansas we should probably visit. He was very friendly and informative but we've got an itinerary so maybe next time we'll check out his suggestions.
We took I-40 for about 30 miles and then traveled the rest of the day on US-65, aka, the Arkansas Skyline Drive. It started out going through small towns such as Pickles Gap, Bee Branch and Twin Groves, then a few larger towns, Clinton and Choctaw. I've never seen so many flea markets! And antique shops. After about an hour we started going through the Ozark Mountains and towns got fewer and farther apart. About half way to Branson was Buffalo National River, lots of kayaking, canoeing, hiking, horse riding, rafting. The parking lot was overflowing with cars, guess lots of people had the same idea today-a beautiful day for a trip down the river. The road was winding now, up and down the gently rolling mountains. Took us over two hours to get to the next group of towns, the largest, Harrison-population 12,963 is where we pulled over in a parking lot for lunch. North Arkansas College is here and it's a typical college town, lots of fast food places and just about any store you could want. But my favorite town was Pindall-population 95! It only had two buildings-one with a sign saying "Goat Gap" that looked deserted, and a fire department. This trip was very relaxing and pleasant, most of the time the speed limit was 45. It's really the only way from Little Rock to Branson.
We got to Branson about 2:00 and checked into the Condo where we'll stay the next week, the Grand Crowne. It took us about an hour to get settled-we had to take all the food out of the RV and enough clothes for a week, then park the RV (right where we can see it from our room) and get it ready to sit for a week. The condo is nice, king size bed, living room, dinette, full kitchen, washer/dryer, a nice little porch off the bedroom and two bathrooms. We'll be very comfortable here, I'm sure.
We then drove to the Tourism Center to pick up the tickets for shows that we ordered about a month ago. We planned what shows and attractions we wanted to see so for the next week we don't have to make decisions about what to do or where to go. The only problem with this is that the condo has so many things going on (ice-cream social, buffet dinner w/Branson show sampler, wine tasting, etc.) that we might want to do. We did leave some time free so I'm sure we can fit a few things in. After the Tourism Center we went across the street to Wal-Mart, (the only grocery store in town) and stocked up on some food. Back to the condo for dinner, then read and sat out on the porch for a while .
Diary Photos
---