Harry and Judy's RV Trip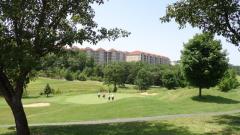 13th Jul 2014 - Summer 2014
Day 8-July 13, 2014-Branson, Day 1
Day 8, July 13, 2014-Branson Day 1
Reached 100 degrees today and, I hate to say it, but it was a dry heat so it wasn't so bad
Branson=God, Country, Entertainment…and mini-golf…and regular golf…and the Titanic…and Duck tours…and theme parks….and water parks…and riverboat rides and resort condos, etc.
God-there are eleven churches on the main strip. Today being Sunday, they were all filled. And there are shuttles to get you there.
Country-The Veteran's Visitor Center, The Veteran's Memorial Museum, The Veteran's Butterfly Gardens. And every show includes a patriotic theme section with a salute to veterans. And let's not forget the veterans discount on all entertainment.
Entertainment-there are over fifty theaters, mostly on the main US-76 strip. Over 100 shows a day. Big names and not so big names. Country music, Dixie Stampede, Chinese Acrobats, magicians, animal acts, tribute bands by the score, comedy, a Price is Right taping, etc., etc., etc.
What you won't find in Branson are casinos, bars, although there are two kid friendly wineries that serve grape juice to kids during the tasting, off color shows, red light districts, etc. US-76, the main street, is where most of the theaters and attractions are and it's usually backed up with traffic, especially when people are going to shows or getting out. There are three roads that go around this main road, the red route, the yellow route and the blue route. They are all great when you're not going to a show and don't want to sit in traffic. Lots of steep hills here, it is in the middle of the Ozark Mountains.
Went to a car wash this morning and then went to our first show-The 3 Redneck Tenors at Andy Williams Moon River Theater. They're really two tenors and a baritone, all classically trained, one even trained at Julliard, who sang at the Met in NY for ten years. The first half was a bit "schticky"-they were playing rednecks and had a whole skit about how they got where they are. The singing was great, the schtick not so much. The second half was terrific-they had their black tuxes on and sang a lot of classical and show songs. They sang New York State of Mind that could put Billy Joel to shame. And Memories and Impossible Dream and Beethoven's Fifth, and Ave Maria and Dixie which they sang together and Pavarotti and I could go on and on. Really great harmonizing. Like every show here, they come out in the lobby and meet everybody after the show.
Went to the owner's lodge at our condo for an ice cream social, then back to the condo to read for a while.
Our second show today was the Comedy Hypnosis Dinner Show at Branson Central Theater. After dinner and a warm up show the hypnotist, Jecobie Roberts, explained how hypnosis worked, then did a few little games to let the audience find out if they would be a good candidate to be hypnotized (Harry and I wouldn't-seems we're both control freaks-who would have ever guessed that????). She got nine volunteers and about five of them went under and put on a good show. At one point she had a 14 year old girl convinced Harry was Zac Efron. She kept looking at him with goo-goo eyes and saying "He's so hot!" I was under the table I was laughing so hard. It's fun to see other people make fools of themselves, but it was all clean fun. Came back to the condo after the show. All the shows here end about 10-10:30 and the streets roll up about 11:00-when the ice cream parlors close.
Diary Photos
---