Harry and Judy's RV Trip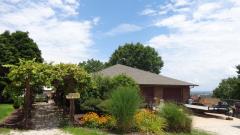 14th Jul 2014 - Summer 2014
Day 9-July 14, 2014-Branson, Day 2
Day 9-July 14, 2014-Branson, Day 2
Nice day, reached 90 but nice breeze and no humidity. Got cooler and breezier as the day went on.
I spent over an hour on the phone with T-Mobile trying to get my e-mail to work but the woman was from Minnesota and gave me some ideas of where to go when we got there. She had worked at a casino and had lots of info for me. And she got my e-mail to work. Did a few loads of laundry and caught up on some phone calls and e-mail.
After lunch we went to Linwedel Winery, about 20 miles out of town, a nice little winery on a bluff with a great view. We then went through Branson West, quite a large town with a lot of single homes and gated community where we've heard a lot of the performers live. Went past a lot of campgrounds, Silver Dollar City, a waterpark and zipline to Road Y, a curvy road with a top speed of 30 to Lewsi Winery in the middle of a peninsula of the Table Rock Lake in Galena. Patty & Ken Lewis own the winery and do everything themselves, right down to the labels and corks. The name Lewsi came about because they made a typo on their logo. Nice people, we spent about 2 hours chatting with them before we headed the 45 minutes back to the condo. Read for about an hour, we both have good books, then had dinner and went to our 7:15 show.
"The Baldknobbers" was the first live show in Branson and started in 1959 by the Mabe brothers who used to entertain the fishermen coming in on Taney Como Lake. The original washboard, plaid shirt, etc. are now in the Smithsonian. Some of the performers we saw tonight are second and third generation. They try to keep the show similar to the original show 55 years ago.
It's a comedy and musical show, seven performers, seven piece band (great band!) and two hillbilly comedians, one of which is the producer and son of one of the original brothers, and husband to one of the singers and emcee. The emcee, by the way, is their son and lead singer. And he has two cousins who sing in the show also. Told you this was a family place. Confused yet? It was a long night, starting at 7:15 with a pre-show that was really funny. Then the show, a nice mix of new and old country music, interrupted quite often by the two hillbillies, Hargus and Droopy Drawers, Jr., who were really, really funny. I enjoyed their bantering with each other and the emcee more than the singing. The whole cast had a great patriotic salute, all decked out in red, white and blue sequin costumes, singing songs of the five branches of the armed forces, asking members of that branch to stand as they sang their song. And at the end the national anthem. Then a break where they sat on the edge of the stage and talked to people, autographed pictures, etc. The second half was more of the same ending with a thunderous gospel segment. I told you God and country, right? After the show they went out front to meet and greet but we went to DQ for an ice cream instead and by the time we got out the streets were dark and Branson had closed for the night.
Diary Photos
Diary Movies
---