Harry and Judy's RV Trip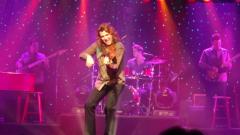 16th Jul 2014 - Summer 2014
Day 11-July 16, 2014-Grand Country Comedy Jubilee and The Duttons
Day 11-July 16, 2014-Branson, Day 4
Weather was nice again-high of 78, back down to 65 by 11
Technical problems part 2-We put our cable services on seasonal hold when we go away but cable is bundled with phone and internet so we make sure we tell them to leave the phone on so we can get our messages. I called today to pick up our messages but I got a message saying it couldn't connect, call back later. My first thought was there was a storm in Florida. My second thought was that somebody at Bright House Networks screwed up. My second thought was right. Somebody punched in the wrong code. I was on the phone over an hour with them. Of course they wanted me to reboot the modem until I told them I was in Missouri. Then we had a nice chat about Branson and somehow got onto Texas and sand dunes. So I learned a few nice places to go in Texas if we ever go there. And the phone service was reconnected.
We did some errands in the morning-yes, we have errands when we're away. Harry had a prescription filled at Wal-Mart, we had to go to the Post Office and we went to the Resort office to pick up our new credit cards. We found a nice spot and had the lunch we brought.
Our first show was at Grand Country Music Hall, which is set back from the road a bit so, even though we've passed it many times, I never saw the full scope of this area. In one building there's the theater, a huge buffet restaurant, gift shop, clothes store, mercantile shop, fudge store, candy store, and a whole wall devoted to the armed forces with patches and memorabilia from all five branches. In another building, the Fun Spot there's an arcade, mini bowling, laser tag and ice cream shop. In a third building is a 36 hole indoor mini-golf. There's also an outdoor mini-golf. Next door to these building is a hotel, another restaurant and a waterpark. Lots of kids having lots of fun.
The show was the Comedy Jubilee which was six performers (3 singers/dancers and 1 emcee who also sang, and 2 comedians) and a five-piece band, including a great fiddle player and Tracy Heaston who is known to have the fastest piano hands around and is also the musical director. The band was great, the singers and dancers so-so. The comedians would get people from the audience and put them on stage with skits that were a bit too tacky/corny for my taste but they were good at it, the jokes flowed smoothly. Of course, at the end, a salute to vets. Back to the condo for dinner.
Our second show, The Duttons, was wonderful! This was Harry's favorite show. The Dutton family consists of Mom, Dad, 7 biological children, 7 adopted children and 26 grandchildren. Of that, Mom, Dad, five children and 17 grandchildren performed tonight. They also served as ushers to seat us and they worked the store and cash registers during intermission. Everybody plays at least a fiddle and the older children play a lot more than that. They had a segment where they played each other's fiddle and with the fiddles behind their backs. The little kids not only came on stage and looked cute but they could really play and some sang. One of the brothers has an alter ego, Cousin Julio from Spain who has a green jumpsuit with about 12 horns (like bicycle horns) that he actually plays songs with. He jumps to get some to toot and some are behind his knees so he has to kick backward for them. And then he used a hairbrush, rake, hair dryer and I can't remember what else to create a percussion song. This family was really entertaining and talented. Oh, and the got the award for "Best Patriotic Tribute" among other "best" awards. There's a Dutton Inn in back of the theater and a gift shop inside with their special fudge. Next door one of the sisters opened a bigger gift shop and ice cream parlor. This is another one I'd come back to.
Diary Photos
---