Harry and Judy's RV Trip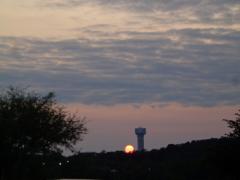 18th Jul 2014 - Summer 2014
Day 13-July 18, 2014-Illusionist Rick Thomas/Last Day in Branson
Day 13-July 18, 2014-Rick Thomas Illusionist
Mix of clouds and sun all day about 75.
We're leaving here tomorrow so we spent the morning doing laundry and packing up things to go back in the RV.
Our last show was at the Andy Williams Moon River Theater and it was Illusionist Rick Thomas. Some of our thoughts: there was no way he did that, that was impossible, did you see that? that couldn't have happened, that was incredible. We sat in the second row right smack in the middle and still couldn't see how he did his magic. Really good show. Another "go back to". He said he gave his tigers to a preserve in Arizona called SOS "save our space" but he's coming back next year with two Great Pyrenees dogs. Should be a good show.
Came back to the condo to finish the leftovers from Lambert's last night, packed up some more things and brought them to the trailer and took a ride down to Historic Branson Landing. The traffic was horrible. We walked through Dick's 5 & 10, a really neat store with everything and then some. Rode down to Lake Taneycomo on Branson Landing and the parking lots were overflowing with cars. Thought it was because it's Friday night and lots of people are coming here for the week-end but then we found out that American Idol is here and auditioning tomorrow at 9AM at the Landing. We've been seeing "Welcome American Idol" signs for the past few days but I figured we'd get out before the madness erupted. Guess not. Back to the condo and read for a while. And with that we say goodbye to Branson.
Diary Photos
18th Jul 2014 Goodbye, Branson
No Description
---