Sailng on Windwanderer.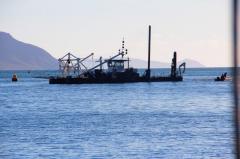 11th Jul 2014
Friday 11th July 2014
Friday 11th July 2014
Well this is fun...not.
We are getting thrown all over the place, with big seas and big winds and man is it uncomfortable.
We finally got away from banjo land, not as early as we wanted to, as The Captain went ashore to get some stuff at the marine shop.
While he was away I got the boat ready to take off as soon as he got back, we were racing against the tide and I really did not want to stay here another day.
So we get the anchor up fine, The Captain does some fancy steering and gets us turned around in one very tight spot.
Out we head, now we have to get past the dredger, but it's moved right over, were we need to get out, no problem they had left a small space on the other side, so we headed for that.
As we get closer I notice a pipe coming down from shore and call to The Captain that we can't go that way, he has a look and thinks it's ok, me not so sure at all.
I notice a guy on the dredger so I race out to ask him, he holds his hands up to say stop, and go to 16.
So we call them on 16 and as per usual in Banjo Land no one answers, the guy then Jumps in a small boat and comes over to us, meanwhile we are having our own little tangle with a wharf, well almost we were floating back on it real fast.
The guy comes up and tells us to go around the other side of the dredger, you should have plenty of water to get through, this is the same guy who told us yesterday that we had plenty of water, great.
So with us both holding our breath and watching the depth sounder getting lower by the second, we finally skimmed through, man were we stressed out.
We finally get into some deeper water, and breath again.
We get the Yankee and mizzen sails up and off we go doing six knots, although it was rolly.
The Captain being a hero goes down and makes us some coffee, while he is down there the wind picks up, I'm having a panic attack The Captain rushes up and tries to get some kind of control over the boat.
It was not easy the wind picked up to around 36 or so knots, now you may think 36knts yeah that's nothing, but when you consider gale force starts at around 40knts, it sure is rough.
Aut the auto pilot was having none of it and just kept switching itself off, I'm getting up and down trying to get it working again and we are going head first into a mountain.
The Captain grabs the wheel and gets us out of that predicament and points us back out to sea.
We manage to get some control and the wind has died down a lot, but it's left us with a horrible lumpy ocean.
We finally make it to lizard Island, The Captain wanted to go ashore but I was just to tired and not feeling real well, so we just stayed on board took it all in and enjoyed not being thrown from side to side.
Well tomorrow is another day.
Diary Photos
11th Jul 2014 Image
The dredger.
---
11th Jul 2014 Image
The fishing boat.
---
11th Jul 2014 Image
No Description
---
11th Jul 2014 Image
No Description
---
---