Sailng on Windwanderer.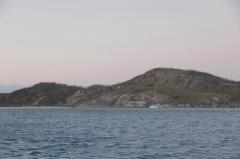 13th Jul 2014
Sunday 13th July 2014
Sunday 13th July 2014
Well first of all I'd like to wish my sister a Happy Birthday, hope you have a great day Di.
Once again it's early morning, we are rocking and rolling, just off a big beach, we are in an area called Bathurst Bay, at Cape Melville.
We made it here just on sunset last night which was kinda nice, we sat and watched on the AIS six ships go through a narrow channel just after we got through, am so glad we didn't have to face them, it would of been a tad stressful.
Today we are just going to do a small hop to The Flinders group, which should only take about three hours, with any luck and the next day we will do another big hop of about 60nm's.
At Bathurst Bay there is a monument on shore, and wait for it another history lesson....haha
The monument is in memory of ships and crew that lost their lives here way back on the 5th March 1899, in a Hurricane.
Three of the ships named were "Sagitta" the Captain aged 39, his nephew aged 25, a ship called "Silvery Wave" the Captain was only 20, and another ship called "lightship" they were the main ships mentioned but over 50 vessels were wrecked and over 300 coloured men drowned, very sad, it must of been one hell of a storm.
This is why we make sure we sail out of the hurricane seasons.
Well we have made it to our next detestation, The Flinders group Islands, we are the only ones here and it feels strange, why? Am not so sure, it has a real outback feel to it, and the weather is hot, but a very strong wind blowing.
I wanted to go ashore and have a look around but the wind kept us from doing so, we were hoping it would settle down some, but it was dark by the time it settled, I still have a strange feel about this place, it's a bit unnerving, just wish I knew why.
Well tomorrow is another day.
Diary Photos
13th Jul 2014 Image
No Description
---
13th Jul 2014 Image
No Description
---