Sailng on Windwanderer.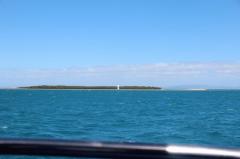 16th Jul 2014
Wednesday 16th July 2014
Wednesday 16th July 2014
Well back out again, at least today the winds are bearable, we have had a few rain showers, but not much.

Our biggest problem is dodging reefs and cargo ships, this has been happening for the last few days, you sure have to keep a close watch on everything.
Yesterday's anchoring was not much better than the day before, this time the chain went down fine, but when I put the boat in reverse which you do to set the anchor the chain just flew out of the locker like something possessed.
The Captain turned into Captain Bligh for a minute as he thought I was doing something wrong and was yelling to stop the boat, once he realised I was not doing anything, I had my arms in the air trying to tell him it's not me...haha he did settle down real quick, but the strain is showing, the ground tackle is very important as you can imagine and we need to get this fixed as soon as possible.
This morning was the same as yesterday morning with me having to race up to help, but it's also dangerous leaving the boat with no one at the wheel.
We are trying to do really big hops now so we can get to Thursday Island as soon as possible.
We could just keep sailing but with all the reefs and stuff out here nighttime sailing is just way too risky.
We are hoping once we get to Thursday Island we can get the stuff we need to repair the damage if not we will have to do it once we reach Darwin.
We will go to Darwin in one big hop, it will takes us about 6 days to get there, man do we live in a big country or what?
So we made it to Cape Grenville, put the anchor down with no problems at all this time.
Well tomorrow is another day.
Diary Photos
16th Jul 2014 Image
And sometimes you can actually see vegetation.
---
16th Jul 2014 Image
Or these.
---
16th Jul 2014 Image
Sometimes we get lucky and they have these on them.
---
16th Jul 2014 Image
This is what we are dealing with, see the slight change in colour, that's a reef.
---
16th Jul 2014 Image
All that green is coral reefs.
---