Sailng on Windwanderer.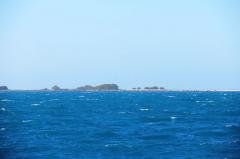 18th Jul 2014
Friday 18th July 2014
Friday 18th July 2014
Well here we are in Rescue Bay, we are actually in a river, did we need rescuing from anything? well not out in the ocean, but man we almost needed rescuing several times in this here river.
There is a pearl farm here, and there are pearl beds spotted here and there.
We knew this was going to be a long hop, and we tried to keep at around 6 knts all day, this was not easy as we had very rolly seas, and man did we roll and roll and then roll some more...haha all day actually, I have no idea why I'm laughing cause it's was just miserable the whole time.
But we made it here just in dusk, so we were happy until we spotted are 2nd set or oyster beds.
The first was ok it was off to our starboard side ( right ), the 2nd lot sprung up on us way to quick, this one was like four clumps of black buoys, we skidded almost sideways around these, not only these but we had a lot of shallow areas as well.
So now it's starting to get harder to see, and The Captain is trying hard to keep an eagle eye on the chart plotter and yours truly is on oyster bed watch, this was not easy a it was getting darker by the minute.
I spotted what looked like six more oyster beds on our port side this time, The Captain grabs the binoculars and says well we will have to go in and around them, cause the other side is too shallow.
Well I take another look and I'm no expert but I have seen my share of oyster beds and usually they are always in long rows, I tell The Captain he is crazy we can't weave in and around them, he is going yeah sure we can, I'm no we can't, this was thrown back and forth a fair bit, this tends to happen a lot with this life style of ours, I'm a panic merchant The Captain is so laid back it nearly drives me crazy.
In the end he says just wait till we get closer and we will see, I'm still going on more to myself now, knowing almost 99% that we can't go through them and really starting to worry big time.
We get closer and then The Captain finally sees there is no way we can go through them, a little tick for me....haha
So we go around but ended up having enough depth anyway, which was great.
By this time I could not see the water very clear at all so we decided to anchor where we were, we got the depth down to about six meters and decided to set it there at least if we have to pull the chain up by hand it's not too much, but that was not meant to be, we drifted into over 9 meters of water so yeah we may have a hard time with the anchor.
As we were sailing ( rolling ) along yesterday, we past a group of islands called Bird islets, in the sailing bible Lucas says that there are a lot of birds here hello "Bird Islet" Well you would expect so.
But these Black Birds swarm up and they almost look like another small coral cove, so we are looking around wondering if he was on drugs when he wrote this and low and behold there they were, and when they are all sitting on the water they actually do look like a small island or reef, it was quite something to see.
We are making a later start today one we need to make water desperately and the second we are having to do are next hop we a certain tide, we have to go through a pass that has to be done on certain tides to get through and then we will be right on top of Australia yeap big big excitement, we may even go straight onto Thursday Island, we are just not real sure yet.
Well tomorrow is another day.
Diary Photos
18th Jul 2014 Image
No Description
---
18th Jul 2014 Image
No Description
---
18th Jul 2014 Image
No Description
---
18th Jul 2014 Image
No Description
---
18th Jul 2014 Image
No Description
---
18th Jul 2014 Image
No Description
---
18th Jul 2014 Image
No Description
---
18th Jul 2014 Image
No Description
---
18th Jul 2014 Image
No Description
---