Sailng on Windwanderer.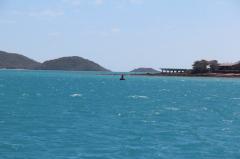 19th Jul 2014
Saturday 19th July 2014
Saturday 19th July 2014
Well were do I start?
We are at Thursday Island right at the top of Australia, yay we made it another big milestone.
Yesterday was a shocker, and am still trying to get over it.
We started to leave Escape River, and we managed to dodge all the oyster beds and were slowly motoring out, when we got a radio call from the owners of the Pearl Farm, what nice people we chatted away for ages, they warned us of a dangerous rock that's not on the charts and just stay clear of it, as we are chatting away The Captain races down to check the fuel, and the tank is showing empty, oh man there were floor boards flying in all direction as The Captain made a dash to get the tanks switched over, all calmed down and off we went again.
We have a never ending battle with these fuel tanks, we have four and for some reason they keep syphoning into each other, but we have no idea how and it shouldn't happen but it does.
So we are motoring down past a huge sandbank when the engine dies, here we go again, The Captain races down and realises he had not switch the tank handle over enough.
I'm on the radio talking to the guys he is saying get the sails up quick, or get the anchor down and yes I'm freaking out watching us getting closer and closer to the sandbank,
But we manage to get the engine started just in time and motored out into deep water, with shattered nerves we pushed on.
Now we had two choices we could sail to a place called, Mount Adolphus Island or push on to Thursday Island.
We did the research and The Captain said we could get to Thursday Island before dark, I was not so keen, but that's what we did.
We went through a pass called Albany Pass which took as right past Cape York, yeap the very top of Australia and man was it pretty the scenery sure was sometime to see.
The other thing was we had a huge current pushing us along at 8-9 knts it was great.
This current went right to Thursday Island and yes we did make it before dark but only just.
We come into the bay here, drop the sails and look up and we are almost on shore, the current was extremely strong here, we had the engine full throttle and going nowhere.
Eventually we started moving very slowly and made it past a red beacon, and ran aground straight onto a sand bank, man Lucas's book said you could go around it and anchor there, a hell of a lot of hating on him was going on here.
But we managed to get off quite quick and managed to get around the other side of the beacon and away from it a fair way and dropped the anchor, but the current grabbed us and pull the anchor chain out at an alarming rate, but finally it set right in front of the red beacon, great.
Now this is a real no no, as other vessels coming in need to be able to see this.
We pick up the radio to call Coast Guard to let them know what was happening and they were calling us as well, they asked us if we were in trouble and we said yes and explained what was happening, they were happy for us to stay were we were and keep all our lights on, but he was worried when the tide changed that we might get tangled around the beacon.
So we waited and within half an hour the beacon is hitting us port side, man The Captain gets out the fenders and tried his best to fend it off, lucky it was plastic so it was doing no damage.
On the turn of the tide things settled down so up we race and try and get some chain in and move us further away from the beacon, this worked well until half an hour later we started to drag.
Back again more chain back out, we managed to get it set once more.
By this time I was way beyond it with nerves at breaking point and hating on boats and sailing I took myself off to bed, The Captain decided to sleep in the cockpit just in case something else happened.
Within 20minutes I could here him talking on the radio, so up I jumped and the guy from the port here said we were about to swing onto a reef and needed to move, oh man it was pitch black we could not see a foot in front of us, the tide and wind was against us, and we needed to get this damn chain up.
But we did it we got it up I'm out the front with a torch trying to see as we knew there were boats around, The Captain was on the radio with the guy and he guided us in, we just had to trust him, which was really hard I tell you, I'm in tears and freaking out major, but we got the anchor down and set, and managed to miss all the boats.
With shattered nerves once again I took myself off to bed, and no other dramas happened, thank god.
So here we are rocking and rolling and felling very washed out.
Well tomorrow is another day.
Diary Photos
19th Jul 2014 Image
The beacon now at a safe distance.
---
19th Jul 2014 Image
Yeap still there banging away.
---
19th Jul 2014 Image
The beacon.
---
19th Jul 2014 Image
Sunset over Thursday Island.
---
19th Jul 2014 Image
No Description
---
19th Jul 2014 Image
No Description
---
19th Jul 2014 Image
No Description
---