Harry and Judy's RV Trip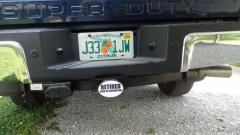 20th Jul 2014 - Summer 2014
Day 15-July 20, 2014-Rocheport, MO & Budweiser Clydesdales
Day 15-July 20, 2014-Rocheport, MO
Sunny and warmer today- about 88 and more humid
The horses are back at the fairgrounds right behind the campground so we had to check it out. Seems they're judging the horses before the fair opens Tuesday. We met Hunter and her horse, Amos, who were competing. We didn't go into the barn to see the judging because we wanted to be on our way to Rocheport.
A friend, Debbie, told me about Rocheport and the Les Bourgeois Winery so that's why we're here. She used to live here and asked me to say hello for her. Rocheport is about 15 miles west of Columbia right on the Missouri River and the winery is at the top of the bluff. We did a wine tasting and met a cat named Valvin, named after a grape that grows locally. He didn't even stir when I pet him, he just wanted to sleep. Of course I had to wake him, I'm a sucker for black and white cats. Down the hill we visited the A-Frame which has a wonderful view of the river and is a great place to get a glass of wine but we opted to go to the Les Bourgeois Bistro right on the bluffs of the river for brunch. The view was great as was the food. Quite a hike down the hill, though.
I still hadn't found anyone who knew Debbie so we went into the historic section of the town with antique stores, Bed & Breakfasts, restaurants and Granny's Mercantile where I finally found Dianne, who has known Debbie since forever. She has a wonderful little shop and told us about the Katy Trail, a 225 mile rails to trails bike and hiking trail right down the road. It's the longest rails to trails (goes almost the entire distance between St. Louis and Kansas City) in the country and the only tunnel on the trail was right there. Lots of bikers on it today.
Dianne also told us about Warm Springs Park in Boonville about ten minutes down the highway. It's the World Headquarters for the Budweiser Clydesdale breeding operation. It has over 300 acres and over 100 Clydesdales. We were too late for a tour but the horses were out in the pasture and they were just about as nosy about me as I was about them so they came over to the fence to say hello. Gorgeous horses. Thanks Debbie and Dianne for some great suggestions for today. We had a wonderful day.
Got back to the RV about 6:30 and have to sit down and look at maps. We're almost in the middle of the country and don't have any plans as to where to go next. Maybe we'll blindfold ourselves and pick a spot on the map.
Diary Photos
Diary Movies
---