Harry and Judy's RV Trip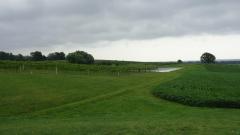 22nd Jul 2014 - Summer 2014
Day 17-July 22, 2014-Tama, Iowa
Day 17-July 22, 2014-Tama, Iowa
Dark, heavy clouds, humid in the morning. Sun came out and the wind picked up about 4PM. Hot, about 95.
Read and caught up on some phone calls and e-mails in the morning.
The campground has a big black-topped area with a lot of metal bleachers on all four sides which we found out they use for concerts. The Tribe also has a large organic garden to the side of the campground where they grow sweet corn, tomatoes, squash, pumpkins, beans and other veggies for use by the Tribe.
Drove through the town of Tama, past a livestock auction and a big John Deere dealer. Some roads are paved and some are gravel and we think the gravel ones are on the reservation and not owned or maintained by the county. On the outskirts of town are corn and soybean fields. The GPS sent us on a wild goose chase down about 12 miles of dusty gravel roads to get to John Ernest Vineyard & Winery in Tama, which is right on US 30, a nice paved road. The view was great from the winery, it sits on top of a bluff. We could see lightning in the distance and had a few sprinkles.
Came back to the campground and did some laundry. Nice Laundromat here and it's close to our site so we might as well do it while it's convenient. Read for a while-I started a book on my kindle app but I'm afraid I'm still a page turning person and would rather have a "book". One of the shuttle drivers told us about a car wash in Toledo about ten minutes away and after the dusty roads today we sure need it. Took a ride through Toledo, a small old town with big, beautiful old homes, some needing lots of TLC on streets lined with huge maple trees.
After dinner we went back to the casino and after an hour left $210.00 richer. Good night for us.
Diary Photos
22nd Jul 2014 John Ernest Vineyard & Winery
No Description
---
22nd Jul 2014 Parsonage in Toledo, Iowa
No Description
Diary Movies
---