Harry and Judy's RV Trip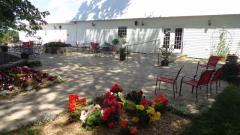 23rd Jul 2014 - Summer 2014
Day 18-July 23, 2014-Decorah, Iowa-Wine, Eagles and Beer
Day 18-July 23, 2014-Decorah, Iowa
Drove 135 miles in 3 hours. Weather is beautiful, sunny, 78, low humidity.
In August 2013 Forbes Magazine named Decorah "One of America's Prettiest Towns" and as some of you know, I've been following a family of bald eagles on a web-cam in Decorah, Iowa since February when they had three eggs. As luck would have it, we were only three hours south of Decorah so we decided to go there and see if we could find the nest.
We had breakfast at the casino to cash in our points and comps so breakfast was $7 for both of us. We drove north on US-63 through small towns and large farms, mostly corn, corn, corn. On the roadside all the way was pretty pink clover, a sea of Queen Anne's lace and those little bright yellow flowers. The birds here are nuts, flying right in front of the truck to get to the other side of the road. I thought for sure we hit a few.
For the next two nights we are at Winneshiek Wildberry Winery, a member of Harvest Hosts where we can stay overnight for free. There are usually no hook-ups but this one has electricity and water. They are also letting us stay for two nights. I'm glad it got cooler because we won't have enough electricity for air conditioning. This is a beautiful winery, it used to be a farm and five years ago they redid the dairy barn to be a wine tasting room and planted some grapes. They still grow corn and have some fruit trees. The owners (third generation) live in a house on site and we're kind of in their back yard, parked on grass under a big tree right next to the tasting room. We did a tasting as soon as we got here then unhooked and went out again to see the sights.
I knew the eagle's nest was probably empty because the eaglets had fledged about a month ago but they were still in the area. There is a state trout hatchery along Upper Iowa River and their nest was supposedly right across the street. Makes it easy to feed the brood, just go across the street and snag a trout from the holding tanks. We walked around the hatchery, lots of trout, all sizes, some ready to be released in the lakes and rivers, some just fingerlings. Didn't see any eagle's nest though. We were about to give up and leave when I asked a woman who just pulled up if she was local and if she knew where the nest was. She did! Actually there are two nests, neither of which we would have found without her help. We found the first one and were walking toward the second one which was behind a house. The man next door was weeding so we stopped to talk to him. He said the nest was pretty cool but, turn around, there's an eagle in the tree behind you. And there it was, magnificently perched on the top of the tree. He said they're there every morning and sometimes during the day, too. We watched for a while 'til he flew away. Breathtaking sight! We found out this eagle family has millions of followers on the web-cam worldwide and they even have their own Facebook page.
We had also heard about a micro-brewery in town, Topping Goliath, and got directions. I had a flight and Harry had a pint (or two). Hadn't eaten since breakfast so we ordered a burger from a place next door and had it delivered to the brewery. Decorah is a Norwegian town and this week-end they're having a big Nordic Fest. Lots of flags flying downtown and little kiosks for the vendors are set up already. Luther College is here so there's a lot of diversity in age, it's a nice little town with a lot of river walks and parks.
Got back to the RV about 8 and read for a while, we both have good books again.
Diary Photos
Diary Movies
---