Harry and Judy's RV Trip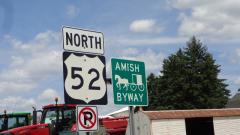 24th Jul 2014 - Summer 2014
Day 19-July 24, 2014-Harmony, Minnesota Amish & Decorah Nordic Fest
Day 19-July 24, 2014-Harmony, Minnesota and Decorah Nordic Fest
Another beautiful day, 80, sunny low humidity
Stopped in the winery in the morning to say hello and a local farmer was there with syrup he had made from the bergamot plant that's found in the ditches on the side of the road. We didn't taste it but the people who did didn't look like they enjoyed it much.
We went about 20 miles north to Harmony, Minnesota, where there is an Old Order Amish community. At the visitor center we rented a CD which took us down dusty gravel roads to nine homesteads, each selling a variety of woven baskets, honey, canned and fresh product, baked goods, small wood items and large wood furniture, quilts, eggs and custom made goods. Beautiful countryside with neat corn rows, pretty horses and cows and the always present buggy with locals waving at us. The farms are all about 80-100 acres. The CD took us past Amish schools and cemeteries and told about their customs and practices. A lot of the homeowner's were painting so either it was a great day to paint or Thursday is paint day. Just about all the kids and women were barefoot and it must have been a cold winter because most of the women were pregnant. The kids are all cute and very curious about the "English". At one farm a little boy and his sister were riding a pony in a field until we pulled into their driveway. The immediately found a reason to come home. The Amish here were friendlier and more talkative than those in Lancaster, PA. At one farm we found it hard to leave because the father kept talking.
We had to go to the car wash after we left because all the roads are gravel and dirt, they're not paved and why should they be-there's no need for a good road when only horses use it. But the truck was covered in dust.
Back to campsite for dinner, then went to downtown Decorah and the Nordic Fest. Decorah is mostly Norwegian and their businesses reflect it-Norwegian Museum, Viking St. Bank, Norseland Travel and Norwegian Mutual Insurance. This was opening night for the week-end long fest and it was crowded with party goers, polka bands, Swedish food and people dressed in Nordic costumes. Young and old alike got into the mood and for a few hours even Harry and I were Swedish. Had a good time. On the way back to camp we saw about six deer in a field across from the college and the lightning bugs are out in droves.
Diary Photos
Diary Movies
---