Sailng on Windwanderer.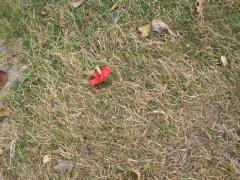 20th Jul 2014
Sunday 20th July 2014
Sunday 20th July 2014
Well we are back out in the big big blue, We are now official out of the Coral Sea and into the Arafura Sea, I seriously did not even know this sea existed, but it says so on the Chart plotter so it must be right...haha
It's actually crazy how close we are to Papua New Guinea, we are only 102nm away from it, we could actually just turn the boat to starboard and be there tomorrow.
So it's my first official watch, it's 8pm, The Captain is asleep, and so far I have managed to avoid a cargo ship and a buoy, I did manage to wake The Captain up at one stage with a piercing noise as I couldn't work out how to turn the alarm off on the radar, he kinda gave me a death stare, then rolled over and went back to sleep.
I have to say I was very nervous about getting back out here again and doing a long passage, also doing night watches by myself, that part is still freaking me out still, it's funny, you think you never forget, and it's not like we have not been sailing, but coastal sailing is just so different to out in the ocean, the whole movement is different, I actually thought I was well and truly prepared, to go back out again, I was wrong.
We are rocking from side to side so bad, and bracing ourselves all the time, it's actually very tiring.
We seem to have this rhyme going on here, we get 4 sets of waves and we roll from side to side at an alarming rate then it settles down to a nice even ride, for about 5mins, than back to rolling again.
So far it's not too bad, at least I'm not popping seasick pills anymore, actually I haven't had any in weeks, maybe my body has finally got used to this life after all.
Yesterday we managed to get ashore and get some groceries, but what a trip in, with the current and wind it was rough, by the time we got to the dock we were both drenched, thank god its warm here so we both dried off really quick.
Thursday Island has a nice feel to it, well the island does, the surrounding water is another story, it's kinda like an old fashioned country town, surrounded by water.
We enjoyed our walk to the supermarket, brought as little as possible, one we had to carry it back and two it was really expensive.
Shocking prices but I guess it all has to be shipped in, so that is always an added cost, and as per usual we could only get half of what was on our list, I'm hanging out for the day I can cross off everything on my list.
We wandered around the Main Street and had a bit of a look at this and that and then made our way back to the dingy and another rough trip back to the boat, we load it all onto here in a swell that threaten to dump us in the water at any minute, by the time we had it all loaded onboard we felt like we had run a marathon and were both exhausted.
We fiddled around securing stuff got the dingy up not without a fight, I tell you with the swell, the current and the wind it sure was hard, and finally dropped into bed quite early, it had been a big day.
Well tomorrow is another day.
Diary Photos
20th Jul 2014 Image
No Description
---
20th Jul 2014 Image
No Description
---
20th Jul 2014 Image
No Description
---
20th Jul 2014 Image
No Description
---
20th Jul 2014 Image
No Description
---
20th Jul 2014 Image
No Description
---
20th Jul 2014 Image
No Description
---
20th Jul 2014 Image
No Description
---