Harry and Judy's RV Trip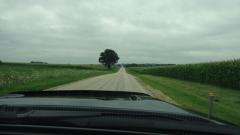 25th Jul 2014 - Summer 2014
Day 20-July 25, 2014-To Crystal Lake, IL
Day 20-July 25, 2014-To Crystal Lake, IL
Drove 254 miles in 6-1/2 hours.
Rained all last night….cloudy and cooler (65) all day.
Talked with Ken, the vintner, at the winery before we left. They were getting ready for a wedding that's taking place there tomorrow and the tent company and bridal couple were setting up a lot of decorations. Yvonne was busy with them and also with customer who came for an early tasting.
Had to stop at Pulpit Rock Campground in Decorah to empty our water tanks and then to True Value Hardware to fill our propane so it took us about an hour to get on the road.
Drove mostly on Rte. 52 southeast all the way to the Mississippi River in Dubuque where Iowa, Wisconsin and Illinois come together. The bridge over the Mississippi to Illinois was closed due to construction and there didn't seem to be another bridge nearby. I felt like Iowa didn't want us to leave. We stopped at a hardware store parking lot for lunch and asked the owner how to get to Chicago from there and he directed us to another bridge back north the way we came. This put us in Wisconsin on County route W for about 50 miles. Very scenic route, hardly any traffic, just a passing car every now and then. Along with the birds darting in front of us we now had a rabbit, turkey and deer on the side of the road. Even a couple of horses on the side of the road that looked like they were loose. Lots of red winged blackbirds. A little less corn but a lot more dairy cow farms and evergreen trees. Beautiful countryside. In Warren, Wisconsin we turned south on Route 20 to Rockford and then eventually to Crystal Lake where Harry's brother, Jim, lives. We'll be staying in our RV on his driveway for the next few days. We had dinner with Jackie and Kristen and then went back to the house and talked for a while.
Diary Photos
25th Jul 2014 County Road W, Wisconsin
No Description
---