Harry and Judy's RV Trip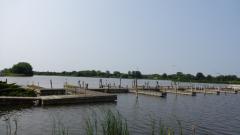 28th Jul 2014 - Summer 2014
Day 23-July 28, 2014-To Two Rivers, Wisconsin
Day 23-July 28, 2014-To Two Rivers, Wisconsin
Drove 208 miles in 6 hours. Sunny but chilly, high of 65.
Needed an extra blanket last night, our Floridian bodies aren't used to this Midwest weather. Took us over an hour and a half to get to the Interstate, what with traffic and stopping for gas. Went through Milwaukee, which is a lot larger than I expected but we didn't hit any traffic. In Sheboygan, WI we passed the "Tallest Symbol of Freedom", a 400' flagpole that was erected this spring by Acuity, an insurance company. It has a diameter of eleven feet and can be seen from quite far away, although it is right on Int. 43. It's the tallest American flagpole in North America and was quite impressive. We also stopped at an RV parts store in Sheboygan to get another heavy duty extension card for 30amp service and while we were there we pulled over and ate lunch.
We then went 45 minutes out of our way before we realized the GPS had us going the wrong way. We entered the campground in by coordinates and they must have been wrong in the camp guide because it put us in the middle of a cow field in Morrison, about 45 minutes west of where we wanted to be. And, of course, we had no cell service to call and get directions. But we eventually got back on track and to the campground at about 4:30. It's Stop N Dock Marina and campground, a mom and pop place with only 18 sites on Twin River which flows into Lake Michigan. Nice, small campground right at the foot of Door County in Wisconsin, a peninsula that we plan to explore during the next couple of days. There are two other couples here from Florida, one from Tampa and one from Mt. Dora, both close to our home. It's a small world.
Had to put the heat on about 9PM, it got too cold for us. Did some checking on campgrounds for the next week or so and found there's not much available in the UP on Lake Superior, a few more places on Lake Michigan but not many. Will do some checking tomorrow, but we may have to re-think our plans. Harry says we could stay here 'til something became available. This is a Passport America campground so it's half price ($15 a night), it's nice, there's plenty to do but, I know us, we can't stay in one place for too long.
Diary Photos
28th Jul 2014 View from our site
No Description
---