Harry and Judy's RV Trip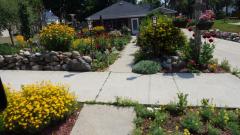 30th Jul 2014 - Summer 2014
Day 25-July 30, 2014-Two Rivers, Wisconsin, the birthplace of the ice cream sundae
Day 25-July 30, 2014-Two Rivers, Wisconsin, birth place of the ice cream sundae
Sunny and about 70. Cooler at night, into the 50's.
Two Rivers is called the "Coolest Spot in Wisconsin". Because of the way it juts into Lake Michigan it never gets above 70 and in the summer is usually in the 60's or high 50's.
Spent the morning checking some possible future places to go, catching up on phone calls and e-mails, some paperwork, housecleaning and re-arranging a bit.
After lunch we went to Lisa's Laundromat in town to wash a load and found a Piggly Wiggly to stock up on some groceries.
Did I mention that Two Rivers, WI was the birthplace of the ice cream sundae in 1881? If I didn't know better I'd think Harry knew this and that's why we ended up here. So after dinner we stopped into the historical Washington House which was originally a three story inn but is now a museum and ice cream parlor. Great flavors of ice cream but the house also has ten rooms on two floors devoted to memorabilia dating back to the late 1800's. You walk into an 1890's saloon and ball room which now serves as the visitor's center. Volunteers are on hand to answer any questions.
Came back to camp and got ready to leave tomorrow. We enjoyed this area and it sure had more to offer than we originally expected and turned into a three night stay instead of just an overnight.
As much as Chuck (the owner and "pop" in this mom and pop campground) keeps asking us to stay for a month there are too many places to go to stay any longer.
Diary Photos
---