Harry and Judy's RV Trip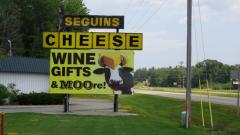 31st Jul 2014 - Summer 2014
Day 26-July 31, 2014-To the Upper Peninsula (UP) Michigan and another casino win
Day 26-July 31, 2014-To The Upper Peninsula Michigan and another casino win.
Drove 203 miles in 6 hours. Sunny, 70.
Started out with a problem with the water pump in the RV but Harry got it fixed. Stopped at Seguins Cheese Shop and got some Wisconsin cheese before we crossed the bridge in Mariette, WI into Menominee, Michigan. Took US-35 which had Cedar River, an arm of Lake Michigan to our right and was very scenic. At Escanaba (a big, busy city) we continued north on Rte. 41 to Marquette. The GPS took us the last fifteen miles over some pretty narrow roads, some just gravel to Ojibwa Casino RV Park. They have 12 sites, electric only, and are first come, first served. We took the last one, then went into the casino to register. I was directed to the customer relations window where the woman took my license, gave me a player's card and a voucher for a free drink. She then gave me two $5 vouchers for Black Jack and another free drink voucher because it's ladies night. When I asked if I pay her for the campsite she said they pay us to camp there and she gave me a voucher for $5 cash. So we set up camp and had dinner. When Harry came in to get his player's card he got the same thing, less the free drink for ladies night (Wednesday is mens night). Oh, and we also got pens and four decks of cards.
At the Black Jack tables we got a nice young dealer who helped us poor old folk decide what to do with our cards. I left after a while to go to the penny slots and Harry stayed and won $47. After winning and losing their money for a while I got on a machine with free spins and when they were all done spinning I came out ahead $120. I don't know how they work and don't care, but I know when it's time to cash in and leave. So we came back to the RV and played Rummikubs.
The campsite is really nice, big pine trees all around, very woodsy. There's not much else here, just the casino across the parking lot, but it's right where we want to be to go see the sights in the western part of the Upper Peninsula tomorrow. We're back in the Eastern Time Zone again so we lost an hour.
Diary Photos
---