Harry and Judy's RV Trip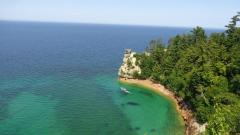 1st Aug 2014 - Summer 2014
Day 27-August 1, 2014-Lake Superior and Pictured Rocks National Lakeshore
Day 27-August 1, 2014-Lake Superior and Pictured Rocks National Lakeshore
Beautiful day, a bit chilly, never got above 65.
Got a late start because we forgot to change the clocks back to Eastern Time so we were always an hour behind.
Took a day trip on Scenic Route 28 between Marquette, MI and Munising, MI and the Pictured Rocks National Lakeshore, most of it with Lake Superior to our left. We stopped at the ferry that goes over to Grand Island National Recreation Area, a 5 x 10 mile island off the coast. Drove through Hiawatha National Forest to Christmas, WI, complete with Santa, a snowman and a Christmas gift shop.
Ate lunch at a picnic table at an overlook for Miner's Castle, a sandstone formation in Pictured Rocks National Lakeshore and then continued to Miner's Beach, Munising Waterfall and Sand Beach. Lots of little pebbles on Miner's Beach but Sand Beach was rockless. Both beaches had very soft sand and crystal clear water. Some people were in the water although it must have been really cold. From Munising you can get a boat tour that goes past the Castle and another that goes to three shipwrecks but we didn't do either one. This was part of the Lake Superior Circle Tour and was the south side of the lake. We came back through the Au Train Lake area with lots of summer resorts, cabins and watersports, especially kayaking. By the time we got back we had gone over 100 miles.
Harry put some air in the tires in preparation for leaving tomorrow, had dinner and straightened up our mess a bit.
Went to the casino office to tell them we're staying another night and we got the same package as last night-between the two of us for tonight we got $20 in Black Jack vouchers, $10 for camping here and two free drink vouchers. Seems for every night you stay here you get the package. I wanted to play the same machine I won on last night but it was broken so I tried another one of the same kind. Put my money in, spun it once and got 20 free spins at triple the win and then another 20 free spins and then another 20 free spins, which I didn't get because there's a 50 free spin maximum but in the end I won $200. But we've been here all of five minutes and I'm done….I want to cash out and go gome. So I gave Harry my Black Jack vouchers which he used along with his and watched him play for a while. He did OK too. I don't like Black Jack….two cards and you could lose a minimum of $5, not my idea of a fun time. And we got an official Ojibwa ceramic coffee mug and official Ojibwa wallet with our points-WOO-HOO! Maybe we should just stay here for a while and become professional gamblers. NOT!! Moving on tomorrow.
Diary Photos
Diary Movies
---