Harry and Judy's RV Trip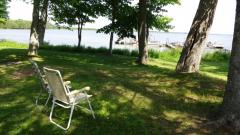 2nd Aug 2014 - Summer 2014
Day 28-August 2, 2014-To Manistique, Michigan
Day 28-August 2, 2014-Manistique, Michigan
Drove 87 miles in 1-3/4 hours. This weather is wonderful-77 and sunny, not a cloud in the sky.
We had planned on taking route 41 south but turned the wrong way out of the campground and ended up going the same way we went yesterday east to Munising on route 28. At Shingleton we turned onto route 94 to Manistique. It was a nice drive, and probably the best way to go.
Got into Gerametto's Resort about noon. Ted and Sally Gerametto are the owners and their son, Brad, helps out. Jon and Karla Carrico rent a cottage here every summer and they recommended it. It's right on Indian Lake and Ted put us right on the lake so we have a great view. Lots of summer cottages but where we are it's not busy at all. We walked out on the boat dock and the water is crystal clear, lots of little fish swimming around. We both read for a while and then headed into "town" to find Wi-fi because we haven't gotten e-mail in three days. Tried the casino thinking there would be wi-fi there but there wasn't. There was, however, slot machines and they gave us each $10 in free play which we lost within an hour. So we went to a local motel that advertised wi-fi, parked in their lot and caught up on e-mails and phone calls. Went to Jack's grocery store for some supplies, (actually some ice cream that Jon said was the best in the world) but they were out. Back to the camp site for dinner then had the first real campfire of our trip. When we checked the time we were surprised to find out it was about 9:30 because it was still light out. Didn't get dark 'til after 10. I got up around 2AM and peeked outside to see lots of stars.
Diary Photos
Diary Movies
---